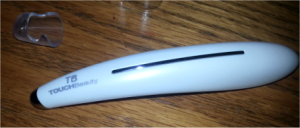 Many of us struggle with dark circles under the eyes, especially as we get older. Many factors can contribute to the quality of our skin around our eyes including pigment, elasticity, and thickness. Other factors such as heredity issues, dry skin near the eye area, insomnia or unusual sleeping patterns, long work hours in front of a computer, and mental stress can also contribute to dark circles. Aside from the use of  basic eye cream. regular eye massage will promote blood flow to the under eye area and helps prevent blood from pooling in the capillaries under the eyes. Treat your tired eyes to an Eye massager. The TOUCHBeauty Sonic Vibration Eye Massager is a spa-quality eye massager that you can use yourself at home.
The device promotes blood circulation, therefore reducing signs of any fatigue, fine lines, dark circles and puffiness. I use mine as part of my daily beauty routine.
No controls smart sensor activates the massager at your touch. Simply apply your favorite eye cream below the eyes and then hold the device to your face. In circular motions absorb the cream into your face.
I can feel my skin being gently massage with each use. This I find to be very relaxing. The vibration is about a medium in regards to touch sensitivity. It glides easily with no tugging or pulling to the skin.
The TOUCHBeauty Sonic Vibration Eye Massager operates with one AAA battery, which is not included. Its small lightweight sdesign makes it ideal to store in your cosmetic bag or carry in your purse. The directions say to use it for 5 minutes 2 times a day. I use mine once in the am and once before bed. Even my husband uses it for the dark circles under his eyes.
Overall, a great device to add to your DYI home spa.
Available at amazon.ca