Move over Mega bloks. There is a new block in town! Snapo toy building blocks give an interesting twist on creative building.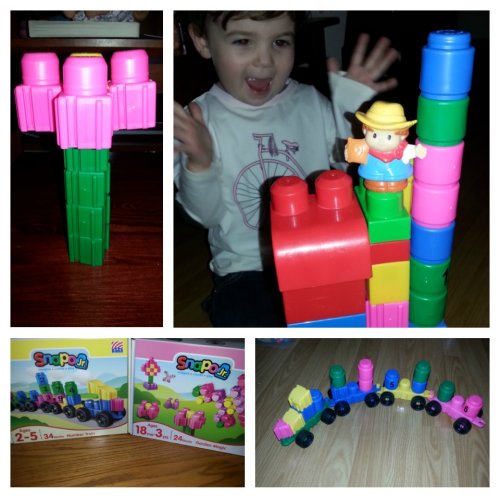 Compared to other popular building blocks on the market, Snapo blocks not only snap on the top and-or bottom, but slide and-or snap on all sides, so your child can create whatever they imagine, all while boosting eye-hand coordination, increasing spacial reasoning and fine motor control!
Snapo building blocks are environmentally friendly, reusable and recyclable. The blocks stimulate learning and spatial abilities through three-dimensional creative play.
Snapo has two sizes of blocks.  The Snapo Junior are large plastic blocks that are ideal for children age 1 to 3. However, my almost 4 year old daughter still enjoys playing with the larger blocks.
The building blocks in the standard size are for children 3 years of age and over. While Snapo sets are made to interest both boys and girls, they do have sets in pink to cater to girls.
To make it even more fun, there are plenty of different shape pieces: wheels, propellers, axles, ball-connectors, flat top pieces, a Snapo-boy or Snapo-girl with various accessories to change their look included in each set. Each set includes pictures for suggestions.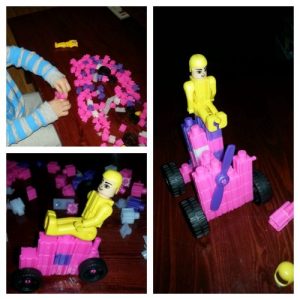 With no tools required and limited only by your child's imagination, there's no telling how many amazing creations they can build. The blocks invite children to create pretend-play scenarios where they can build a project like a castle or house and incorporate other toys into their play. Snapo Toy Building Blocks are also compatible with most traditional toy blocks.
Snapo really hit a home-run in our home.  My daughter has been playing with the blocks for the past year.
She enjoys incorporating them into her play with Little People and My Little Pony.
The 24 piece "garden magic" set has pretty colored blocks, so my daughter can build flowers and plants, or anything really. She loves to build castles.
The Snapo Number Train,  is a 34 piece junior set for children 2 to 5.  The set includes numbered blocks and wheels to build the train.
Now that she is almost 4, she has been playing with the standard size blocks more. She does have some trouble locking the blocks together in the sliding position, but that will come. As previously mention she still enjoys the larger blocks, so overall Snapo get lots of play in our house.
While, there are a lot of different brands of building blocks/kits,  Snapos stands out above the crowd.
If your child enjoys building and creating, Snapo is a great toy to have.
Website: http://www.snapo.com