Are you looking for a few kids Easter basket gift ideas that are fun and educational, too? Cardinal Industries has a variety of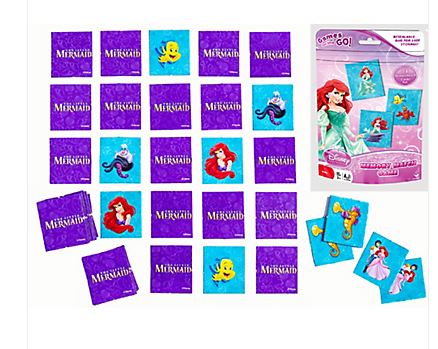 puzzles and games that are sure fire winners with both child and parent.
My daughter just turned 3 and is just getting into games. Memory games are one of my favorite games from my childhood, so I was excited to introduce her to them.
Played alone, memory games are perfect for developing concentration, memory, following rules, taking turns, eye and hand coordination, and more. With more players, it's even more of a memory challenge to remember where the cards are that have already been turned over.
Cardinal Industries has several memory games based on your child's favorite characters like Minnie Mouse, Hello Kitty, Doc Mcstuffins, Spiderman, Teenage Mutant Turtles and more.
My daughter's memory was recently put to the test with "Ariel Memory Match Game Bag."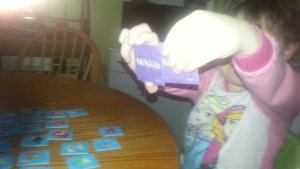 Like all standard games of memory, players take turns choosing two cards, placing them face up. If they are of the same that player wins the pair and plays again. If the cards are not the same, the player returns the cards to the board face down and play passes to the player on the left. The game ends when a player picks the last pair. The winner is the person with the most pairs.
Because my daughter doesn't quite get the concept of the game just yet, we practiced on her matching the different cards without flipping them over.
I suggest using only part of the 54 cards and gradually increasing the number of cards as your child gets older–otherwise, they may become frustrated and give up, which was what happen to my daughter while playing.
Party City currently has these games on for just $2.50. Each match game comes in a foil bag for easy storage. Choose between Minnie Mouse, Frozen, Paw Patrol, Cars and more.
Puzzles are always a huge hit in this house. Like the memory games on the go, Cardinal Industries has puzzles on the go,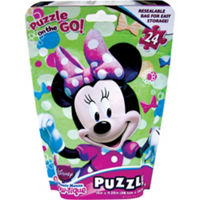 which come in foil bags. The puzzles are also based on your child's favorite characters and are perfect for creating themed baskets for Easter. Choose between 24 and 48 piece puzzles.
With Puzzles, you can turn your Easter egg hunt into a search to find all the pieces to the puzzle! Just make sure to know where you hide all the eggs as there is nothing worse than getting to the end of a puzzle and finding out your missing a piece. Once the puzzle is completed, you can award your child with a special price.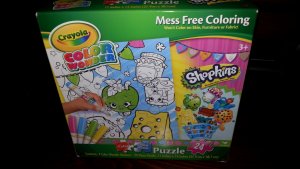 I hope you've found the ideas helpful! Of course, if you need a couple more idea,I highly recommend Crayola Color Wonder Puzzles and Star Wars Crowd Sourced Trivia Game.
The Mess-Free Color Wonder Coloring Puzzle is exactly what the name implies. It's a 24-piece, puzzle kids can color using Color Wonder markers. The puzzle comes with four Color Wonder markers. As with all Color Wonder products, the marker color only appears on the special Color Wonder paper, or in this case, Color Wonder puzzle pieces. The puzzle is easy to put together and once it is assembled, kids can color it in however they want.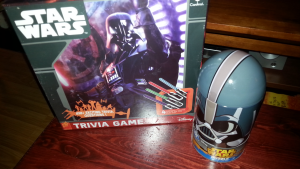 2015 was quite the year to be a Star Wars fan! With 3 months into 2016, I see the love for Star Wars not slowing down anytime soon. For fans 5 to 8, Cardinal – Star Wars Trivia Classic Crowd Game contains trivia and timeline cards, 4 lightsaber puzzles, 4 dry-erase boards, 4 dry-erase markers, and one challenge die. Play time is about 30 minutes. Fan Written question make this game truly unique! While the game is recommended for children 5-8, I think the age span should be more in the teenage to adult rage, as younger children may have quite the difficulty answering questions
Cardinal Industries provides a wide variety of games for all ages. Visit them at cardinalgames.com.
About Cardinal Industries, Inc.
Cardinal has grown to become one of America's top signature board game and puzzle companies, offering more than four hundred items including traditional games such as dominoes, checkers and poker sets, as well as an extensive line of licensed games and lenticular, wood and basic puzzles. An industry leader with worldwide reach, Cardinal products can be found throughout North America, Europe and Australia. Cardinal has excelled in the licensed puzzle and game arena working with Disney, Marvel, Nickelodeon, Sanrio, Twentieth Century Fox, NBS, Warner Bros, Sesame Street, HIT Entertainment, Lucas among others. Cardinal games and puzzle have won many awards, including the LIMA International Licensing Award for Best Film, Television or Entertainment Licensee for work on the Twilight Saga trivia game, TOTY award nominations for several items and many Vendor of the Year awards from Toys "R" Us.