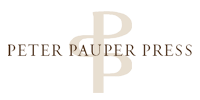 Whether she needs to dash off a thank you note, write a grocery list or liven up her workspace, Peter Pauper Press is your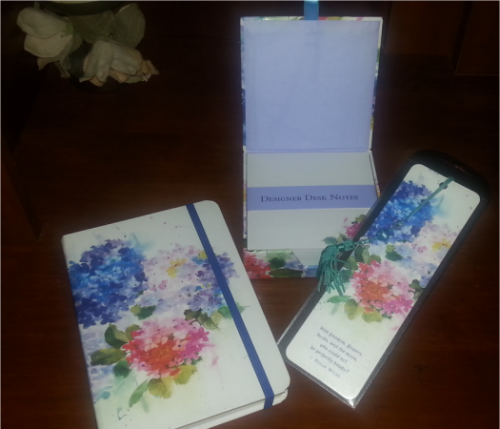 destination to find the perfect Mother's Day gift in stationery.
Does she journal? It's easier to commit to daily writing in a journal when ones notebook is this pretty. The pretty Hydrangeas pattern will inspire her to start hand-writing her daily thoughts.
Every journal needs a pen. Featuring solid brass construction and a lacquer finish, this perfectly balanced pen glides over the page, providing a controlled fine line and true writing pleasure. Its elegant design, in shades of indigo, cerise, and wisteria, is set off against a crisp white pen barrel and top. It will make an attractive addition to mom's desk.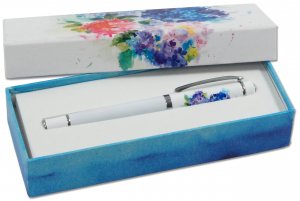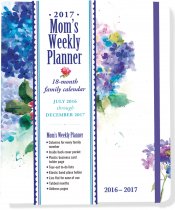 How mom keep her sanity with the 2016/2017 weekly planner featuring the beautiful Hydrangeas pattern. This inspired desk calendar and planner makes managing ones family's activities and appointments a snap with with five columns: one for Mom, and one for each of four other family members!
I don't know about the woman in your life, but I go through a lot of desk notes.  I use them to jot down appointments, or for things I need at the grocery store.  The box note sets from Peter Pauper contain 250 premium designer note sheets, which lasts quite some time. Each set comes in  a reusable keepsake box. Peter Pauper have many different designs, with the newest to my desk being the Hydrangeas pattern, which matches the rest of the other Hydrangeas gifts and stationery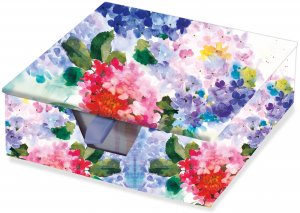 products from Peter Pauper Press.
If you have an elderly mom or friend in a nursing home, it can sometimes be a daunting task finding the right gift. Hydrangea elegant stationery set, along with a matching pen and set of stamps makes the perfect gift. If she enjoys reading, don't forget to add a matching bookmark.

You  will a find a variety of stationery gift ideas that she is sure to love this upcoming Mother's Day at peterpauper.com
What's on your desk?