As my daughter heads back to senior preschool this year, I want her clothing to be unique, practical and (above all) stylish. The clothing should reflect who she is, from casual to a tiny fashionista. And most of all the clothing should be affordable. Because, let's face it; at this age- she outgrows her clothes before they wear out. From the $4 mix and match basics to the affordable $8 denims,  I delight in how far my dollar stretches thanks to Giant Tiger's new kids' lines.
The 3 new kids' lines were developed with a child's day-to-day in mind. From school, to after school programs, to weekend fun, the new brand has kids covered.  Monkey Bars offers trendy and durable clothes for boys and girls in sizes 2T-6X. The line is energetic and fun, perfect for preschool clothes. Bella & Birdie features hip girls' fashions in sizes 7-14 and is all about confident and cool girls who are ready to explore their inner fashionista Survival Gear boy is fun, fearless and always up for adventure. The line boasts stylish boys' fashions for sizes 8-16.
As a proud Canadian retailer, Giant Tiger developed each brand to meet the needs of Canadian kids. They ensure that their manufacturers use top quality material. Therefore, the items keep up, not only with the kids who are wearing them, but the ever changing Canadian elements they are wearing them in.
Back-to-Preschool Clothes Shopping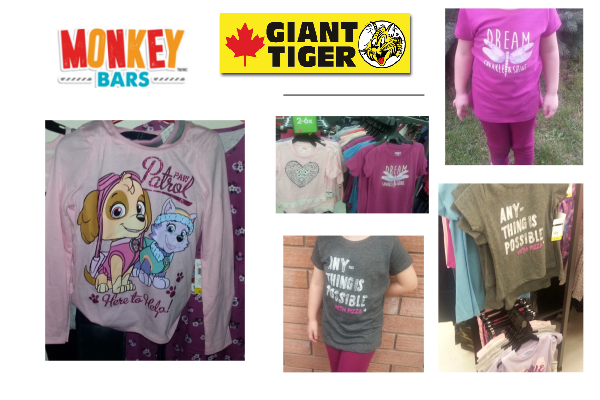 Mix & Match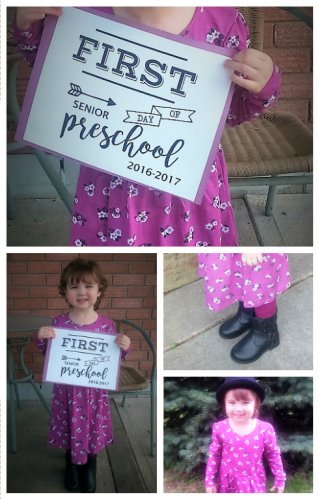 One of the things I love the most about Giant Tiger is that their pieces play well together. You can buy a few key pieces and create several different outfit combinations by simply mixing and matching. Giant Tiger's $4 Mix and Match Basics program provides budget conscious basics that can all be warn together to create a complete wardrobe. I can swamp in a different set of legging to change up a look, or layer a t-shirt over a long sleeve top or wear a short sleeve tee under a hooded sweater.
Graphic Tees
Giant Tiger has a number of officially Licensed Graphic Tees for both boys and girls. I paired the girls fashion pull on denims with a long sleeve Paw Patrol jersey top for a simple back to school look.
From Casual to Mini Fashionista
Many of the looks you can dress up or down. A simple dress- like the Monkey Bars knitted dress can be worn with  black leggings and a pair of black short boots. Add a pair of flats, little cardigan and fedora to dress it up and turn it into the perfect Sunday dress.
The length of the leggings are perfect.  And the leggings can be paired with so many of the tops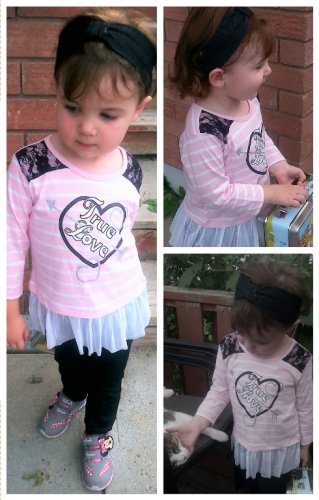 found in store, so one pair of leggings can work for two, three, even four outfits.
3 piece outfits for girls
Every now and then I get my daughter's input on clothes; after-all, she is the one wearing them. Miss P picked out this 3 piece outfit from the Monkey Bar line. The set includes black leggings, top and headband. I just love the tulle on the top and lace design on the shoulders. This outfit is in size 5, which is her current size. It should carry her through to spring 2017 before she outgrows it.
Also the Monkey Bars line isn't restrictive to play, which is important when you are dressing a preschooler. I don't want my daughter to be struggling with snaps or buttons when she needs to go to the bathroom.
For fun and fashionable preschool clothes, check out the Monkey Bars line.
Bella & Birdie line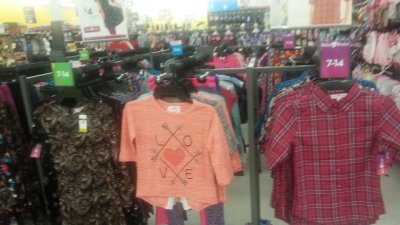 I spent a little time looking at the brand new Bella & Birdie line of clothes too. I was really impressed with the variety and selection available. It was hard not to purchase a few items for next year when my daughter starts Kindergarten.
Giant Tiger Happiness Guarantee
Giant Tiger's number one priority is customer satisfaction for every member of your family. They understand that kids change their mind about their style and go through unexpected growth spurts. Kids play hard and work hard and sometimes their clothes can't keep up.  Therefore, they've created the "Happiness Guarantee." If your child has outgrown, outlasted or simply changed their mind, return the item with receipt for a full refund.
Monkey Bars, Bella & Birdie and Survival Gear clothing are available exclusively at all Giant Tiger stores.
 What clothing do you recommend for preschool?

Win a $100.00 Gift Card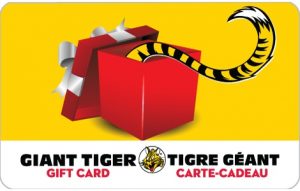 Giant Tiger has partnered with Today's Woman to give one lucky Canadian reader the chance to win a $100.00 gift card for back to school shopping, or use it to get a jump start on Christmas shopping. Good luck everyone!
Win a $100 Giant Tiger Gift Card

Win up to $1,000 Weekly in Giant Tiger Gift Cards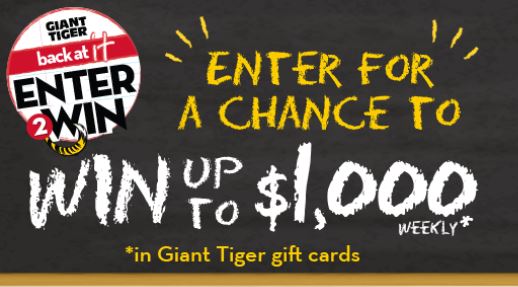 To make the 2016 back-to-school experience even more exciting, Giant Tiger is hosting a back-to-school " contest, featuring weekly grand prizes of $1,000 in Giant Tiger gift cards! Enter the Giant Tiger giveaway now!