No one is more deserving of a great gift this holiday season than man's (or woman's) best friend. Doggie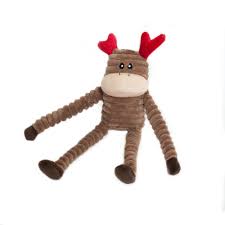 Couture Shop has many inexpensive gift ideas for your dog that are perfect for expressing your love.
If your dog is the playful type and enjoys new toys, then a Peppermint Penguin, Santa tug rope or a crocheted snow man might be the perfect gift.  For my son's dog Tess, this Fun, crinkle toy for the holiday season is sure to please. The cute reindeer has 1 squeaker and crinkle paper inside the arms and legs. The variety of noises are sure to keep her thoroughly entertained.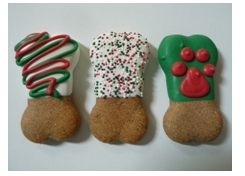 Not only do specialty treats make a great gift, but they are also healthy. Doggie Couture Shop sell gourmet dog treats are  packaged beautifully in gift boxes or gift bags. Choose from Christmas bones, cupcakes or assorted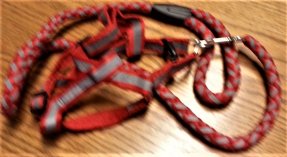 cookies.
Despite the abundance of edible gifts available at Doggie Couture Shop, there are a number of fantastic non-edible presents for your four legged friend. A new leash is sure to go down well with the entire family. This heavy duty braided reflective leash is perfect for night time walking.  it is 48 inches long and comes with an adjustable step-in harness. The adjustable step-in harness adjusts for small to medium size dogs.
Humans aren't the only ones who are looking to enter the new year in style. An edgy collar, is sure to set your  dog apart from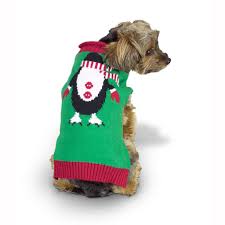 other dogs at the dog park.
Your dog doesn't want to miss out on the Ugly Christmas Sweater party this holiday season! This novelty tacky dog Penguin sweater will let your dog join in on all the holiday fun while keeping warm!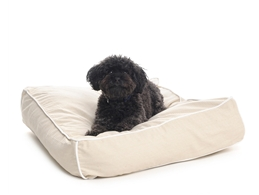 Forget the cheap dog beds that only last a few months. Your dog deserves the best in comfort and design. Doggie Couture Shop caries the ultimate in beautiful fabrics and comfort, as well as durability.
There are hundreds of gifts on the market for your pet. Whether you invest in some tasty treats, a new toy, or a dog leash, your canine companion is sure to love what comes out of his or her stocking.
Doggie Couture Shop is a upscale dog boutique providing you and your fur-baby, the best customer service and the ultimate in gift ideas for your dog.
This Christmas don't forget to spoil your dog!
Website:doggiecoutureshop.com