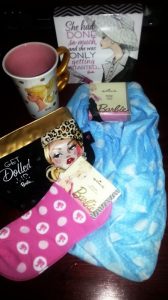 The Barbie doll was invented in 1959 by Ruth Handler (co-founder of Mattel), whose own daughter was named Barbara. The Barbie doll was first introduced as a teenage fashion model, but in the years that followed she has taken on many roles. Today, Barbie continues to find new ways to inspire and encourage the next generation of girls. The world of Barbie today is a great deal more than a doll and accessories. The Barbie line has developed into a broad array of licensed products including books, apparel, and home electronics. In 1993, Barbie Hallmark Ornaments entered the market. Each year's Hallmark ornament is based on a Special Holiday Barbie Doll. The series is very similar in theme to the Holiday Barbie series. Today, the Barbie Hallmark ornament collection is one of the most popular Hallmark ornament collector series. Hallmark has recently released the Barbie Inspired product collection.
As a general rule, I don't consider myself a Barbie collector. However, I do love this new Barbie Inspired product collection. from Hallmark that blends together vintage and modern chic designs, taking me back to my own childhood.
Barbie Inspired product collection
Barbie Treasure Box –  Keep this 4″ x 3.75″ x 4″ round box on your dresser to hold small treasures. The pink lid with the signature letter B handle covers the container that has dotted, diamond design and beauty icons. It would also be a nice gift for a young girl or tween.
Barbie Inspired product collection Pink Barbie silhouette Ankle Socks are adorn with pink polka dots and the classic Barbie silhouette.
Barbie infinity scarf–  The blue with white dots infinity scarf  is light and airy. The light aqua blue scarf has white polka dots with the classic Barbie silhouette and the signature letter B. This scarf is also available either in pink with black diamonds, or black with pink diamonds.
Barbie makeup bag–   Used  the zippered makeup bag to hold your cosmetics. The inside features pink fabric and has a faux-leather metallic gold top and zipper pull.
Barbie mug- A modern take on classic beauty, this fashionable mug layers a dramatic Barbie™ profile image with metallic gold dots and a bright pink interior. Handle forms the signature letter B—for Barbie, of course.
Barbie™ Getting Started Plaque– Fashion-sketch styling accentuates the grace and sophistication of Barbie™ on this posh plaque. Alternating edges feature solid black and black-and-white chevron pattern.

Itty Bittys Barbie– Inspired by the 2016 Holiday Barbie™ Doll, this itty bittys® stuffed animal is a must-have for collectors of all ages and the perfect way to celebrate the Barbie™ tradition of fabulous holiday fashions.
This holiday season shop outside the big box, with unique items for barbie gifts from Hallmark.
About Hallmark
Privately held Hallmark  creates a more emotionally connected world. In the U.S., products offered by Hallmark Greetings, Hallmark Retail and Hallmark Home & Gifts can be found in more than 40,000 retail accounts including mass retailers, Hallmark Gold Crown® stores and online. Hallmark's family of companies also includes Crayola®, maker of creative art tools and toys, Crown Center, a mixed-use entertainment, office and residential district in Kansas City, and Hallmark International, which offers products in more than 30 languages available in 100 countries.  For more information, visit www.hallmark.ca