Slap bracelets were a 1980s social phenomenon and toy craze.  Slap bracelets, originally known as Slap Wraps, were invented in 1983 by Stuart Anders, a high-school teacher in Sun Prairie, Wisconsin. They were available in a wide variety of patterns and colors. The slap bracelet is back.  And don't let the 80's nostalgia – factor fools you. Slap bracelets are still cool. Slap bracelet watches give you all of the slapping fun of the '80s with the added functionality of now telling the time. The watches are bright and full of personality.  If you grew up in the 80's you are going to want a watchitude.
Watchitude Slap watch
Choosing from the fun watches is the tough part. The challenge for me was to narrow it down to just one design. My cousin
owns a pizza restaurant, so I went with the pizza design. With about 100 quirky designs to choose from, you'll have no problem finding one that displays your personal style and mood.
The splash-resistant bands images won't fade or peel. And the watch faces are easily interchangeable.
To put them on, you simply "slap" them onto your wrist and they curl around snugly. There is no fasteners, no adjustments, no "prong" to get into the hole on the band- hence why they are perfect for kids. Parents, no worries! Watchitude is SGS Certified safe for kids, 100% lead free, and non toxic.
While the watches are geared towards children aged 4 to 12, teens and adults will want to sport a watchitude. Each watch comes in a slim box, perfect for gift wrapping!  The watch is lightweight and the band fits comfortably regardless of the size of your wrist. Keep in mind: Watches are slash resistant, but not water resistant.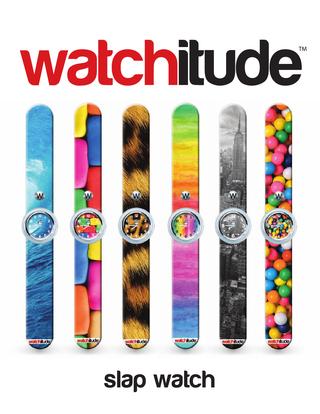 Did you know that you can submit your own design to Watchitude? All submitted designs are voted on and the top 10 designs are made into a watch. How cool is that?
Overall, watchtitudes are a fun budget friendly watch for the tween or teen, and  with the wide array of designs you will find a watch for even the fussiest tween- teen.
If you are looking for the coolest and trendiest holiday gift, check out Watchitude!