Are you struggling over what to get the woman in your life? Stop stressing and entertain the thought of gifting her hand crafted
jewelry. Jewelry-itself is that one gift that is always accepted. However, handmade custom jewelry truly makes a statement. In addition, she will cherish the thought that you went that extra mile. Furthermore, browsing online jewelry boutiques, such as "Tyvee B Creations" allows you to shop for her from the comfort of your own home. Therefore you avoid the hassle of the busy mall.
By purchasing handcrafted jewelry from "Tyvee B Creations" for her not only are you gifting originality, but you are supporting hardworking artisan "Tyvette Brown." She has put her heart and soul into every piece that she creates. Tyvette loves what she does and it is shows in each of her beautiful designs.
A wife and a mother of two energized boys, Tyvee has been designing jewelry for five years. Personalization has always been a favorite concept of Tyvee. Her personal favorite type of jewelry accessory is charm bracelets, as it allows her to explore colors, hobbies, events, etc.- bringing her customers fashionable pieces that not only will they wear, but cherish. For Tyvee, "Tyvee B Creations" is more than a business, it is an art, which she is passionate about.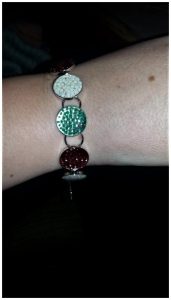 "Tyvee B Creations" has a wide selection of handmade jewelry available to choose from. You're guaranteed to find a meaningful and unique piece of jewelry that she is sure to treasure for a lifetime.I know that from personal experience. Tyvette made my daughter a brain injury awareness bracelet last year for Christmas. My daughter wears it constantly and everyone has asked her where she got it.
If for some reason, you don't find just what you are looking for; Tyvette will work with you to create a customized piece of handmade jewelry specifically to her personal taste and style.
Whether you are shopping for her this Christmas or there is a special occasion coming up like a birthday or you want to hint to him about what you want for Valentine's Day, be sure to check out "Tyvee B Creations" for all your handmade custom jewelry needs. Take time to browse and select the perfect piece that fits her style. You can find them at TYVEEB.COM & on Facebook at "Tyvee B Creations."