Using motion sensor lights for the outside of your home rather than keeping an outside light on all night is a great option. However, choosing a motion sensor light can be tricky. There are dozens of different makes and models on the market, and they come in all shapes and sizes.  Why not invest in Solar Motion Sensor LED Lights?
Why Use Solar Motion Sensor LED Lights?
Holan Motion Sensor LED Lights have many advantages over regular motion sensor lights. Besides saving on electric costs and the environmental benefits, they also provide much more flexibility in their use. They can be placed anywhere on your property that receives light, without being limited of where they can be placed.
Holan Solar Motion Sensor LED Lights review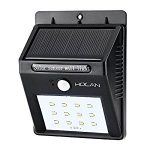 My husband installed a Holan Motion Sensor LED Light directly in front of our door. We have found it to be more than adequate to meet our needs. In fact, we plan to purchase 8 more to light our stair case, as we live in the upper portion of a duplex.
All hardware is included in the box for easy installation. The product ships with some screws for mounting, the instructions and a little push pin to turn the unit on.
The LED solar powered light has 12 super bright LEDs and is activated by any motion up to 10-26 ft. away. We don't get that amount of rage, because of where we mounted the light.
The light has two adjustable settings- regular and bright. We have it on the regular setting and the 12 LEDs throw a great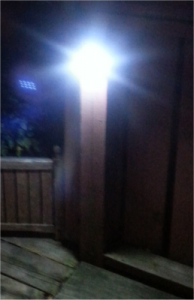 amount of light. I find it to be extremely bright compared to other similar LED lights on the market. It is important to note that the more LEDs that are present, the more powerful the solar powered motion lights will be.
According to the description on Amazon the light needs about 6 to 8 hours for a full charge. It does come precharged right out of the box, as upon hanging, we had about an hour of sunlight and the solar light worked all evening with no issues.
Installing motion activated lights is an easy weekend project that can help discourage a break-in and make the area surrounding your home safer.  Ultimately, the motion sensor you choose will come down to your needs.
If you would like to purchase a Holan Solar Motion Sensor LED Light you can find them via Amazon.ca. & Amazon.com
For a short time you can save 25% on Holan Solar Motion Sensor LED Lights when you use code:NPHSFFEQ at checkout.