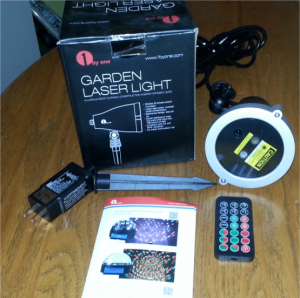 Bells will be ringing, the glad, glad news; It's Christmas once again. It will soon be my favorite time of year. As I prepare to decorate the outside of my home for the Christmas season, I can't help but be concerned with how much I am really spending on Christmas Lights. Therefore, I decided to opt for an outdoor laser projector from 1byone. With the 1byone Aluminum Alloy Outdoor Laser Christmas Light Projector, I will be able to enhance the appearance of not only the front of my home, but the tree in our backyard as well.
Gone are the days when my husband would spend hours of his outdoor time hanging up Christmas lights and taking them back down once the season is over. It takes less than 5 minutes to set up the laser light.
You simply attach the included stake to the unit, mount the laser in your yard, plug the garden light into a wall outlet, and aim it
at your house. You are now done with your Christmas light setup for the season! The light uses laser technology to beam colorful lights on just about any surface you want.
My husband mounted our laser light unto the deck and pointed it towards the house. I love the fact that the laser lights can cover up to 2,100 square feet from a distance of 25 feet. This gives the illusion of thousands of twinkling lights. Pictures really do not do this Laser Light justice, as they are extremely bright and colorful.
With the wireless remote you can control the lights by setting them to motion, flashing or leaving them in a stationary position. As with all laser lights, the darker the area the better the effects. These lights can also be set to a timer anywhere from one to six hours at a time. We plan to set ours for 4 hours.
We did  notice the remote did not work from inside the house, which is the only draw back. You have to be directly in front of the projector for the remote to work.
The Christmas lights durable timer is made to withstand the cold winter elements. Rated IP65 light casing and with an IP44 power adapter, you can Hide it among your landscaping without worrying about weather conditions.
If you're looking to spice up your home this holiday season, but don't want to spend a lot of time stringing lights, the 1byone Aluminum Alloy Outdoor Laser Christmas Light Projector is a great option. You can even use the laser light indoors.
I would recommend using caution with the lasers. Never look directly into the laser lights and never shine them into the sky.
You can purchase the 1byone Aluminum Alloy Outdoor Laser Christmas Light Projector via Amazon.ca. 1byone also carries a variety of electronic products which would make wonderful gifts for the hard to buy for people in your life.