She wipes the filth off your face, by licking her thumb and forcefully rubbing it on your cheek, she makes the best meatloaf, she sneaks you dessert when dad has sent you to bed without any, she kisses your boo-boo's and wipes your runny nose and when you become an adult and move out on your own, she is always just a phone call away. She is your mom and she is simply amazing. This upcoming Mother's Day thank her for being her with a lovely DYI flower arrangement or a garden gift basket.
With warm weather here, this mom has one thing on her mind and that is getting my garden ready for summer. Here at Today's Woman we have teamed up with Giant Tiger to stock up on a variety of seeds and pots that will have my garden looking pretty. They would also make great gifts for Mother's Day.
Decorate her outdoor space with these vintage planters. Made out of Polyresin material, these old style boots featuring colourful animals will bring a rustic charm to any garden. Choose from snail, turtle, frog or butterfly.
These functional plastic pots can be used to grow her favorite plants and flowers. With various sizes and colors, GT Boutique has mom covered. Fill a pot with patterned garden gloves, seeds, garden hand tools, and garden accessories. Be sure to include some snacks and her favorite cold beverage for when the gardening is through. You can pick up all the gift basket pot fillers at Giant Tiger.
A perfect pick-me-up, these colorful teacup planters are sure to bring smiles. They are perfect for indoors or outdoors. Available in several different prints, the planters enhance the appeal of her favorite plants. They are made out of dolomite.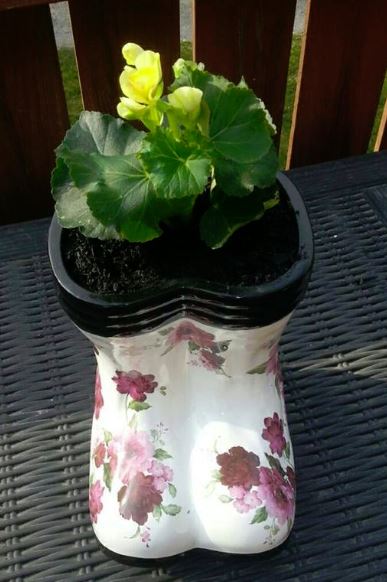 Add some quirky charm to mom's garden, patio or doorstep with a rain boot planter. Available in 3 different designs these rain-boot planters are just so cute. They are a definite conversation starter.
Because the pots have no drainage holes, you will need to add a drainage layer to allow excess water to get out of the soil more quickly and away from the roots.
Pick up a pair and gift it to mom filled with a fresh bouquet of tulips, daffodils or her favorite plant.
We are adding all three rain boot planters to our deck. We added a begonia to one one of the planters and the other two we have added seeds too.
The colorful tea cups and boots can also be used to build a candy bouquet arrangement for mom. Visit Giant Tiger for all your outdoor décor needs.
Which planter catches your eye the most?
About Giant Tiger:
Giant Tiger is the leading Canadian owned family discount store, committed to providing on trend family fashions, groceries, and everyday needs. Established in 1961 in Ottawa's Byward Market, the privately held company has over 200 locations across Canada and employs over 7,000 team members. All Giant Tiger locations are locally owned or operated by a team member who knows the community. In 2001 the North West Company entered into a franchise agreement with Giant Tiger Stores Limited to open and operate Giant Tiger stores in Western Canada. The friendly local stores with the iconic yellow Tiger logo are not only where Canadians shop more and spend less, but they help bring communities together. In 2012, Giant Tiger donated more than $2 million to more than 700 local associations and charities across Canada.
Giant Tiger checks out as Canada's low price Giant with our low prices every day, price matching, Claw Backs throughout the store and the no time limit return policy. For more information about the company, please visit www.gianttiger.com or join them on Facebook at www.facebook.com/gianttiger or follow them on Twitter @GTboutique.