The Holiday season is here! Why not add a Cuisinart food processor to your Kitchen Arsenal of appliances this year. Take it from the chef in our household. Itt will truly make the chore of cutting, chopping, mixing or even mincing a breeze! Like most food processors their main requirement is to take the chore out of prepping and save you time.
With today's busy lifestyle who has time to spend all those hours in the kitchen preparing holiday recipes while friends and family mingle. Some of those friends and family we only get to see once or twice a year. Cut down on prep time with a Cuisinart Food Processor.
Cuisinart Elemental 8 Food Processor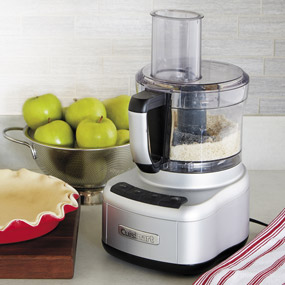 The Cuisinart Food Processor is designed to perform just about any food prep task a recipe calls for. It's big enough to chop ingredients for a party-sized portion of salsa, and powerful enough to turn a full bowl of hardy vegetables into healthy pureed soups in minutes. With its rubberized touch pad controls, and reversible shredding and slicing discs this food processor a favorite of creative home cooks! With three speeds (high, low, and pulse), this food processor makes food preparation easier and faster for the busy cook.
It's has a lot of power to get any job done effectively and quickly with 350 watts to chop, puree and mix with ease.
The Cuisinart 8-Cup Food Processor multi switch rubberized control functions allow you to easily switch from low-to-high and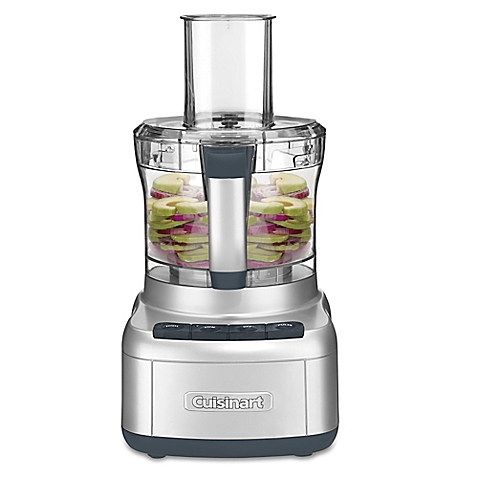 back again easily with no hiccups or grinding halts.
The Cuisinart Food Processor is also a very attractive piece to add to your kitchen assemble, with its high stainless steel finish to its Stainless Steel Blade – for Chopping/Mixing/Kneading and its two Reversible Stainless Steel Discs – that can shred or slice – to medium or fine within seconds. This food processor is sure to be a conversational piece!
Before using this food processor, make sure the base is fully locked, or the lid won't be on securely and the machine won't run. The bowl must be locked, and the lid in place before plugging the unit in.
The Cuisinart 8-Cup Food Processor is also dishwasher safe, so cleanup is a snap. It's also BPA free, so you don't have to worry about plastic bi-products leaching into your food.
Cuisinart Elemental 13-Cup Food Processor
When you have large family gatherings and your feeling overwhelmed with preparing food for 8 or more adult guest the Cuisinart Elemental 13-Cup food processor saves the day. It comes with one large bowl and one small bowl, so that you can prep small or large jobs without cleanup in-between. Plus, it has an array of disks to choose from, ones for shredding and others for slicing. You can choose from thin to thick to course to fine and of course with the adjustable control buttons on the front of the Cuisinart Elemental Food Processor, you can slice or shred to the desired results you want or need. It comes with a nice large feed tube on top, where you can add your favorite ingredients while you either slice or shred to your heart's content.
Most people only think of food processing for vegetables, or pesto sauces, but you can use it for so much more. Like shredding cheese or slicing fruits and chopping nuts as well as soups, sauces and purees.
Whatever it's used for– it handles them all with ease, because it's built with a motor that's got 550 watts of power. So it has lots of punch for the value! The food processors 2 bowls, the feeding tube all come equipped with the Cuisinart Seal Tight technology.
No matter if you're doing something hot or cold or a large amount of food preparation in one session, the Cuisinart Food processor will not leak and your counters will stay clean!
It also comes with a nice counter top storage container to store all the blades and accessories that come with your Cuisinart food processor. But that's not all – you also get a nice recipe book that's got a lot of recipes you can start with and if you're like me; you'll tweak them all to add your own spin and pizzazz to the recipes making them your favorites among your friends-and family.
Clean up is a breeze, the bowls, feeding tube, the spatula and blades are all dishwasher safe or simply use some warm soapy water and you are done.
I really don't know how I have gone so long without using a food processor. Now that I have one there isn't a week that goes by that I am not using my Cuisinart Elemental Food Processor for something. I have made fresh salsa, pesto, marinade sauces, gravies and even a roasted carrot hash! Even my wife was amazed at how fast and easy it is to use, that maybe she may take up cooking more! A man can hope!
If you're looking for that perfect gift for Mom or Dad, or a newly married couple, may I suggest a Cuisinart Food Processor?
Well done, Cuisinart. Well done!
Website: Cuisinart.com.