From the fitness buff to the world traveler,  from the tech savy business man to the beauty addict,  MYTAGALONGS has got them covered this Christmas. Their line of lifestyle accessories have them prepared for anything that life might throw at them this holiday season.
Gift Ideas For The Beauty Addict
Your gift recipient can now skip the trip to the spa thanks to your gift of beauty accessories from MYTAGALONGS. A neat little
pouch contains the essentials to keep your toenails perfectly manicured. Whether for use at home or travel, it's perfect for slipping into your handbag.
One of my favorite gifts in the jar category is the Mani/Pedi Kit. While they are really simple DYI project, some people just don't have the time and would rather purchase a kit with all the essentials.  The Mani-Pedi Kit Mason Jar Kit from MYTAGALONGS delivers just that. Add her favorite nail polishes and you are good to go. It makes a great beauty gift for her. The mason jar features an image of giant red lips with the words Hello Gorgeous. The kit contains:
Nail clipper
Nail file
Nail buffer
Cuticle tool
Sponge
Folding foot file
Toe separators
Folding straw
Reusable mason jar
This versatile striped bag has so many uses. She can hold all her holiday makeup essentials in it or use it to store her mp3 player, phone or jewelry. Brighten up her day even more, as the nylon lining bag features the words " Hello Gorgeous."
Sleeping in total darkness is believed to enhance the quality of your sleep. A gorgeous soft, light weight contoured eye mask is the perfect gift for making any female feel glamorous and of course with the words "hello Gorgeous" and big red lips she'll feel just that after a rested night.
Relieve her headaches, aches, pains and muscle strains with this old school ice pack. Can be used hot or cold. It features an easy to fill large opening with plastic cap.
Keep her nails in tip-top shape with double-sided emery nail file boards! Say hello to perfect manicures on the go! They are perfect for her stocking, or put in a gift baskets with other beauty accessories from MYTAGALONGS.
Travel Essentials
From travel bags, to Luggage tags with attitude, from travel document envelops to a canvas travel document holder, MYTAGALONGS
This & That (Set of 3 Drawstring Bags): . Why not organzine your suitcase with this set of 3 drawstring bags. They are great for organizing your shoes, laundry, beauty essentials, etc. My daughter-n-law will be making use of them on her upcoming honeymoon.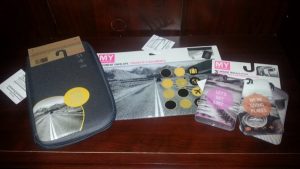 Canvas Travel Document Holder– Never lose your passport, especially in a foreign country. Be organized when you travel with this genius travel organizer. It has all the right interior compartments for your travel documents: Passport, Baggage Claims Receipts, Boarding pass and even a place holder for your pen. It was an early Christmas gift for my son. I know it will get plenty of use as he and my daughter-n-law head to Cuba next week for their honey moon
Eye Mask– If you sleep on the plane and need a little help to fall asleep, nothing works better than an old-fashioned eye mask.
Pill Case- Too much sun at the beach. Too much stress from rushing to the airport. Whatever the cause, a headache can be misery. Be prepared with a vitamin pod. With seven compartments the pod can hold even the largest of pills. Don't forget to add some tums in case you are eating food over the holidays that does not agree with you.
Luggage Tags– Still out of ideas for a holiday gift? Luggage tags and a gift card for a new set of luggage makes a wonderful gift.  MYTAGALONGS has a number of tags with cute sayings and colorful graphics.

Tech organization essentials
Ear bug Case: For the mom who'd rather plug in her earphones than listen to the kids squabble in the back seat of the car, this compact neoprene will store earplugs and protect them! It features an interior tab to wind your ear bud cord around as well as a mesh pocket for quick storage. It is sized small, so it fits neatly into any purse, carry-on bag or pocket. My eldest daughter says it is a must have.
Charger & Cord case: Phones loose power and die. It happens to all of us. If this feels all too familiar, then why not treat  your husband to a charger cord and case. Never be uncharged again! The case if perfect for storing all his tech accessories in. Be careful though. This case is such a must have that your kids might steal it for their tech accessories. I highly recommend purchasing them a set too for Christmas.
Hold Everything Cases will hold everything from cosmetics to electronics. They can also be used to store women essentials. I love that they are compact enough to fit in my large purse.
Organizing Case: There's a good chance you travel with a lot of technology, I know I sure do. The organizing case can be immensely useful for storing your camera and chord in one compact location. MYTAGALONGS has lots of different designs to choose from.
Eyeglass Case: How many times have you left the house, got to your destination, only to realize you left your reading glasses at home on the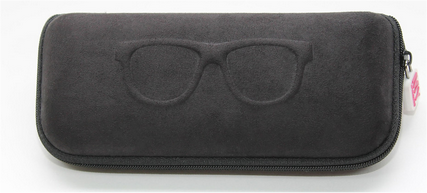 night stand. This happens to my husband- all the time!
Keep an extra pair or reading glasses in your car by storing them in the eyeglass case. Available in pink, lime and black the cases are perfect for storing both reading glasses and sun glasses. The black color is perfect for both him and her.
The nice thing about the organizing essential line is that they can be moved into drawers in your hotel room when you arrive, so your items can be easily re-packed when you leave.
These tech essentials would also be good for the business person who does a great deal of traveling.
Fitness Essentials
Waist Band: Do you remember the fanny pack from the 80's? It's back, but this time it is called a waist band. These new waist-packs from MYTAGALONGS offer both style and comfort. Waist bands are the perfect accessory for every traveler, allowing you to carry all your essentials from your keys, to your medication, to your cell phone. Made of expandable Neoprene, the waist band, is also the perfect workout accessory, solving the ever so iPod, or cell phone, toting gym-goer's problem.My daughter uses one she takes her mp3 player along with to Dr's appointments and when she attends physiotherapy at the gym.
Foldable Silicone Water Bottle– Perfect for the gym is a Multi-use reusable bottle that is light and foldable. It is on our Christmas wish list.
Be sure to check out some of the other handy lifestyle essentials from mytagalongs.com. MYTAGALONGS are simple solutions for you if you are on the move and make an ideal, original gift for all of your friends who are moving along with you.