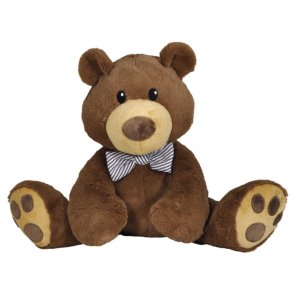 One of the greatest gifts we can give our children is the gift of reading. Story-time can be a magical time for children. Whether it's a story that you read to your child once or a thousand times, it's an opportunity for bonding. Story time not only promotes bonding and snuggling time, but also stimulates brain development and increased language and communication skill. New Storytime Huxley, the interactive story bear from Cloud B is a cuddly way for parents and child to spend a magical story-time together.
Select from one of five stories and Huxley will read it aloud. He even asks questions to keep your child engaged. The stories include the following classics: The Tortoise and the Hare, Ugly Duckling, Beauty and the Beast, Goldilocks and the Three Bears, and Three Billy Goats Gruff. Kids can also follow along with an illustrated storybook, written just for Huxley. Each story only lasts about 2 minutes.
Huxley arms and legs are covered with a soft fur. To activate the bear, turn the power switch to ON and press the buttons in his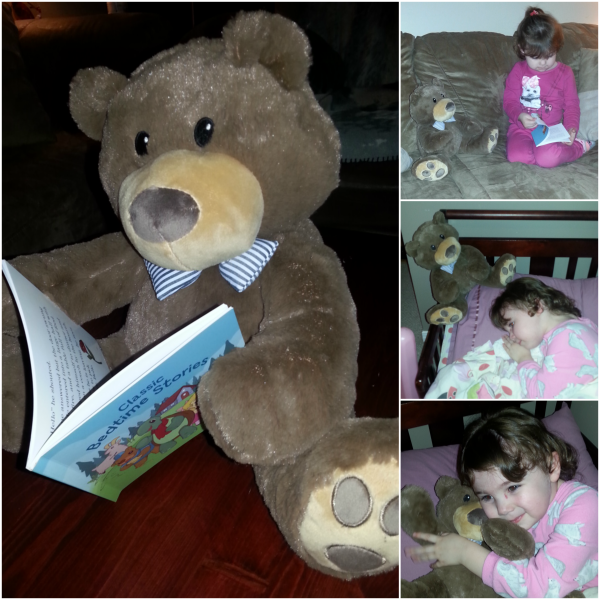 four paws. Each of the buttons has a different function—turning on and shutting off the bear, controlling the volume, choosing the story, and beginning the story. Children can pick and play any story as many times as they'd like.
Squeeze his left hand to turn him on and off. Sort through five different stories by squeezing Huxley's left foot, and to play and pause a story, simply squeeze Huxley's right foot. His right hand also adjusts the volume of his sound, so that you can find the perfect volume for little one to enjoy. And to preserve battery life, Storytime Huxley will automatically shut off after 10 minutes of inactivity.
My daughter loves the ritual of reading with mommy or daddy, and each time she snuggles on the couch with a story, she is learning to foster a love of words and reading. Storytime Huxley has been a welcomed gift.
Overall, Storytime Huxley is a cute teddy bear that helps reinforce a bedtime routine, and encourages kids to read along to the stories using the included book. Storytime Huxley is not just for bedtime though, kids can press the bear's paws to hear classic tales any time.
Everyone has one or more memorable toys from their childhood. Storytime Huxley is the type of bear that kids will remember as they grow older and reminisce over the fond memories they had with their teddy.
Three AA batteries are included upon purchase.
You can find Storytime Huxley at toys, gifts and baby stores across Canada.
Website: www.cloudb.com/canada
Charley the Chameleon Giveaway
One of my lucky readers will win a Charley the Chameleon.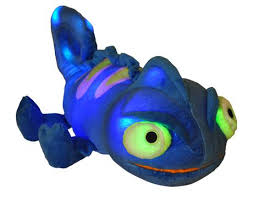 Cloud b's Charley the Chameleon is a cuddly plush friend that helps children transition from playtime to sleep time. Children's imaginations light up as Charley illuminates in a rainbow of colors and plays soothing sounds.This is a nice toy to have in the nursery to help transition from play to bedtime. Kids will also love Charley's big inquisitive eyes and big mouth. Giveaway is open to Canadian residents 18 years and over.
Features:
2 soothing sounds: Rain Forest and Tropical Tunes
45-minute sleep timer
Light /sound options :
Press 1x ON + Rain Forest + transitional lights (colours transition gradually to the next)
Press 2x Tropical Tunes + soothing lights (colours jump to the next)
Press 3 x Lights only – transitional
Press 4 x OFF
Requires 3 AAA batteries (included)