Gift-giving season is here and this next gift is perfect for a Secret Santa-recipient, a teacher, neighbor, or a friend. It is such a
frugal, practical gift. And not only does it make for an appreciated gift that smells great, it also can do some good. Give the gift that keeps on giving! For every purchase made at Giving Soaps, 20% is donated to charity.
Giving Soaps offers a wonderful variety of products made from plant-derived materials.  From bar soaps that smell amazing to body lotions that are smooth and moisturizing to specialty soaps, and balms. They even have an essential oil roller for headaches that I would love to try!
Many people today worry about what they use on their skin, and rightly so. Giving Soaps use base oils like olive, sunflower and coconut, and natural fragrances and essential oils.
The bar soap and accessories from Giving Soaps ranges from black currant vanilla, oatmeal milk and honey, sweet roses, lavender, and more. Some are created as all purpose bars while others are geared as shaving or facial soaps. Bath bomb gift sets
Peppermint Tea Tree Bar Soap
I own the peppermint tree bar soap from Giving Soaps, which smells amazingly strong. However, the soap definitely gives you an aromatherapy experience in the shower and leaves behind an uplifting scent that keeps you feeling fresh.
Peppermint Tea Tree Soap Benefits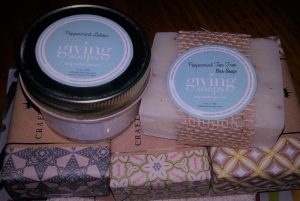 According to several researches, tea tree essential oil is extremely beneficial for our skin. Tea tree oil soap can clear up acne, and other skin irritations.  It is perhaps the only essential oil that is antibacterial, anti-fungal and antiviral. Also bathing regularly with peppermint tree bar soap oil soap can diminish the bacteria that lead to embarrassing body odor.  Peppermint essential oil is an anti-oxidant, as well as being very refreshing and invigorating.
Also in the Giving Soaps line up is an offering of different lotions, including unscented.  I really like that they offer these luxurious, moisturizing lotions in three different size options: 2 ounce, 3.3 ounces, and 15.6 ounces.
When you pair any of the soaps with a soap sweater, some body lotion, a soap dish, a terry robe and towel set, you can create a bath-themed bundle that's just perfect for gift giving. You can also give the soaps individually with a tag that reads:
We wish you a holiday full of peace, love and soap!
Here is Soapin you have a Merry Christmas
I also want to note that Giving Soaps packaging is all Eco-friendly too!
To purchase Giving Soaps visit thegivingsoap.com.
Have you ever given a household essential like soap as a gift?