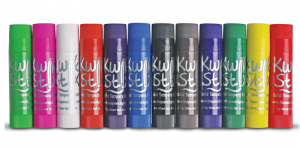 Painting opens up a world of color for young children and is a wonderful way for them to express emotions, convey ideas, and explore. Like most moms the one thing I dislike about painting is the mess that comes with it. Thankfully there are mess free painting alternatives available.  Imagine, the ability to paint without water, cups, paintbrushes and aprons. This sounds almost too good to be true, doesn't it? I would like to introduce you to Kwik Stix, from The Pencil Grip, Inc.
Designed to alleviate the mess of painting, the non-toxic tempera paint pens operate much like a  glue-stick. You simply turn the bottom to move the paint up for use. The paints are smooth, easy to apply and completely mess-free. Furthermore, they dry in 90 seconds, while leaving a paint like finish.
The paint's creamy consistency helps it flow smoothly over poster paper, cardboard, wood, and canvas, which allows kids to use a variety of creative painting techniques. In addition, brush and water is not needed.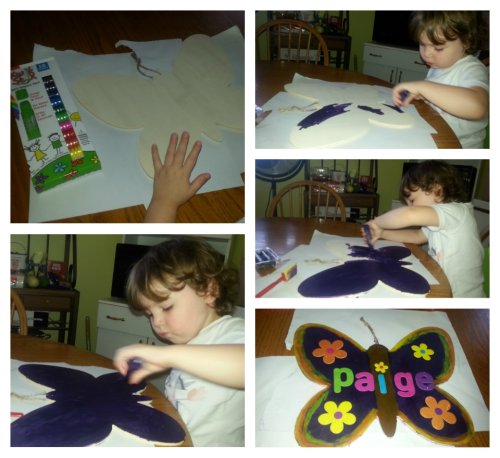 My little preschooler is quite the crater. She loves getting creative. My daughter used her Kwik Stix to paint a wooden sign for her bedroom door and to paint a bird-house.  For the bird house we used a combination of  acrylic paint, brush and Kwik Stix.
With Kwik Stix, you can mix colors by layering them when wet. You will need to clean the ends of the paint sticks in between mixing.
Once dry, you can layer colors without risk of the colors bleeding.
Do you ever struggle with teaching your child how to stay within the lines when coloring?
Coloring inside the lines can be a tough skill to teach. I have found that Kwik Stix Solid Tempera Paint sticks are helpful  in assisting my daughter to color between the lines.
Overall, we definitely recommend adding these to your art supplies. They would definitely be an asset to any-one that home schools.
Kwik Stix are available in packs of  twelve, 24 and classroom size. A 12 pack includes 12 paint pens – White, yellow, orange, red, pink, green, forest green, light blue, dark blue, purple, black, brown.  Purchase Kwik Stix via Amazon or thepencilgrip.com.
Use the coupon code below and save on your next order at thepencilgrip.com.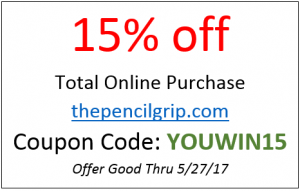 Win Kwik Stix Tempera Paint Sticks
Pencil Grip is giving  you the opportunity to win your very own Kwik Stix Tempera Paint Sticks . Good luck to all those who enter.