Easter is  two weeks away and my darling daughter is already gearing up for the holiday by adding Easter dazzle to note books, wallets, DYI Easter cards for her friends and more, thanks to 'Foil It' a foam sticker activity kit from Peter Pauper Press.
I must admit that I was a little skeptical about this product at first. Although the box was attractively decorated with bright metallic colours, the size of the tiny box left me hesitant. To my surprise this little box from Peter Pauper Press packed quite the punch. Inside were more than 20 punch-out foam stickers with peel-away adhesive, and 16 multi-colored foil sheets, including holographic foils!
My daughter had so much fun with Foil It. The ease and simplicity of the craft makes it easy for children as young as 3 to achieve beautiful results. In fact, Rose's 3 year old daughter also tried her hand at Foil It.
You first choose which sticker you would like to make and pop it out from the surrounding foam. On the sticker, there are cut-outs which allow you to only remove the specific portions of the sticker in which you are 'colouring' at that moment.
In order to 'colour' the sticker you simply press the foil sheets on the exposed part of the sticker. The colour from the foil sheet transfers to the sticker. Once each section is finished, you then continue pressing additional colours on to your project, until the sticker is completely 'coloured'. Very little pressure is required to transfer the foil colour onto the sticker, making the craft incredibly easy for young children.
The finished product is fun, creative, individual stickers. We had so much fun creating our very own Easter stickers. The colours are metallic and reflective, so the finished stickers are unique, shiny and bright. There is no cutting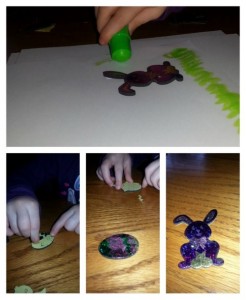 or gluing required, so it is a nice craft without the huge cleanup afterwards.
My daughter made me an adorable bunny sticker. It brings a smile every time I see the sticker, and she took such pride in creating me a special gift. The adhesive on the stickers are strong.
Rose's daughter decided to make some pictures from her Foil It creations.
If you're looking for a simple, sweet Easter craft ideas to do with your little ones, I highly recommend Foil It. I look forward to trying some of the other 'Foil It' foam activity kits available by Peter Pauper Press (peterpauper.com.)