Give the gift of luxury and pampering to the woman who has everything.  Made with 100% natural ingredients, aromatic, lush,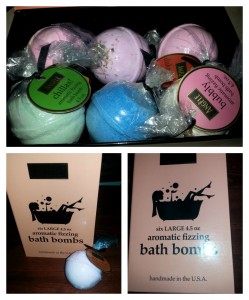 & soothing, this bath bomb set makes the perfect gift! Inside the box you get 6 large bath bombs- a full 4.5 ounces,  which is twice the size of most bath bombs, each one coming with a tag that tells you the scent. Each bath bomb is shrink wrapped to lock in the fragrance.
The six-pack features a wonderful variety of aromas for you to soak and relax in:
 

Bubbly (champagne fragrance with bath tea & roses)

Balmy Beach (ocean breeze fragrance & sea salt)

Chillax! (eucalyptus & spearmint oils)

Dulce Colada (strawberry fragrance & coconut oil)

La Bomba (pink grapefruit fragrance)

Lavender Tea (lavender fragrance & bath tea)
The bath bombs are non-toxic, contain no preservatives or impurities and are comprised of fine natural ingredients, including coconut oil, shea butter, Mediterranean sea salt and witch hazel, to name a few.
Reduced humidity combined with colder temperatures tends to wreak havoc on my skin. I was excited to try "Angele Bath Bombs"  out for myself, as they do contain coconut oil. It is claimed that coconut oil is good for several skin disorders such as Keratosis pilaris , and eczema, both of witch I have.

This was my first time trying "Angele Bath Bombs," so I wasn't sure what to expect.  The ball bomb fizzed quite a bit when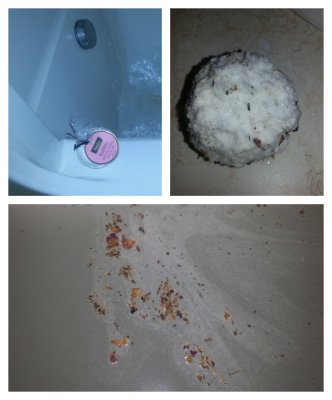 placed in my  tub and the water changed color. The bath bomb did leave tea leaves behind in the water and like other bath bombs, it did leave a ring of color around my tub from the oils, but it's very easy to wash away.
The bath bombs create the most amazing and relaxing aromas. However, after use I felt that my skin was extremely itchy. On the contrary, it did seem to remove dry dead skin.
These printable bath bomb gift tags from Kristen are so cute. Attach one to a "Angele Bath Bomb" and you have the perfect Christmas gift for extended family members, friends, teachers and Secret Santa gift exchanges. You can attach it to your bath bomb using baker twine or string. Click to download You're the bomb Printable tags by Blooming Homestead.
Angele Bath Bombs can be purchased via angelecote.com and on Amazon.com.