Whether it serves as an office break-room convenience, a counter-top space-saver, or an essential kitchen appliance for the perfect cup of tea, kettles have come a long way in the quality and features they provide. Gone are the days when I would stand waiting in front of my stove watching the kettle boil some water for my cup of tea. The delicate yet classy looking large capacity Crystal Clear Electric Water Boiler from Breville works like a charm and adds beauty to my kitchen top.
Made of shock-scratch resistant German Schott Glass, it imparts no taste to the water, and I can watch the water boil. It is entirely BPA free. The kettle's high power 1800 watts means faster boiling, allowing me to make 7 cups of tea in less than 10 minutes. Plus the kettle features a Water level indicator with cup markings for easy filling.
Once the water reaches a full boil the kettle automatically shuts off, so I don't have to worry about forgetting to turn off the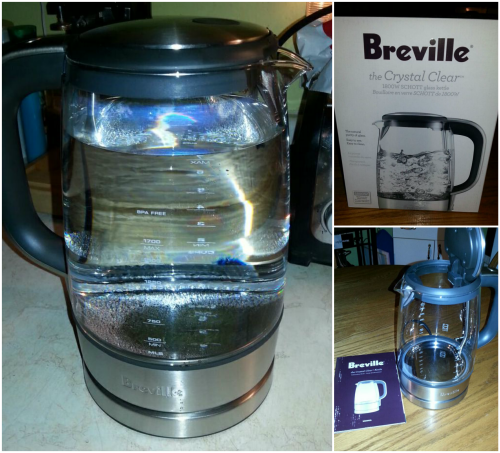 kettle. The soft opening lid slowly releases steam and prevents splashing and burns. Plus, the kettle features "boil dry" protection, which cuts the power if the kettle senses there's no more water left.
The kettle can be lifted from the main unit, allowing me to serve tea right at the table without the hassle of power cords. The removable mesh scale is easy to clean and purifies the water while pouring. The cordless kettle rests on a 360 degree multi-directional base with cord storage wrap. If you are looking for a pleasing designed, simple yet elegant looking kettle- this one is for you. The kettle comes with a 1-year warranty from Breville.
Overall: Clean, efficient, straightforward, I love it!
I was introduced to Breville by my son who has his eyes on the "The Barista Express" for his upcoming wedding. I was on the market for a new kettle as mine had just died after years of use, so I turned to Breville. This is the first Breville product I have owned and I must say that I am very pleased. I will definitely be adding more Breville products to my kitchen.
From breakfast to dinner, small appliances from Breville make time spent in the kitchen a breeze.
Breville is based in Sydney, Australia with offices in Canada in Montreal and Toronto. They design and engineer kitchen tools to deliver commercial quality performance that look great and are easy to use.
Visit www.breville.ca to view their full range of products.