With back to school just around the bend, my son who is in his forth year of university has been examining his back to school supply inventory, and wouldn't you know it, his supply of Post-it Notes were almost nonexistent. If there is one back to school supply my son needs other than a never ending supply of Sharpie pens, it is Post-it Notes. I don't think he would make it through the school year without them. Lucky for him, Post-it Brand has added some new items to their every growing line and mom has him covered!
Post-it® Weekly Calendar
Any university student who holds down a part time job while attending school can testify that striking a balance between school and work is not an easy task to undertake. You need a high level of motivation, energy, perseverance and a Post-it® Weekly Calendar. The calendar is such an easy to use tool to help you stay on top of what is going on! The new chalkboard design calendar comes with 2in x 2in Post-it® Full Adhesive Notes to help you stay organized.
The Post-it Brand World of Color collection
My son has done away with the boring yellow post it notes. He make his notes really stand out with the Post-it® Brand World
of Color collection. Post-It just added 9 unique color palettes to their brand that are inspired by global destinations around the world. From majestic beaches in French Polynesia to the desert jewel of Morocco, the assortment echoes inspirational destinations and brings striking bursts of color into daily routines.
The Post-it Brand World of Color collections feature palettes inspired by global destinations including:
Bali, Indonesia – Warm and soft pastels that reflect a tropical journey
Bora Bora, French Polynesia – A refreshing palette that echoes an escape to the island paradise
Cape Town, South Africa – Vibrant and upbeat hues true to this port at the southern tip of Africa
Helsinki, Finland – Tranquil and clean colors honor the simple pleasures of Scandinavian living
Jaipur, India – Bold and exotic bursts of color resemble the food, art and culture of India
Marrakesh, Morocco – Expressive and energetic colors reflective of this eclectic desert treasure
Marseille, France – Lively pastels that showcase the vitality of this French port city
New York, United States – Bright hues inspired by the city's notable skyline, stone and steel landscape
Rio de Janeiro, Brazil – Dramatic bursts of color celebrate this Brazilian metropolis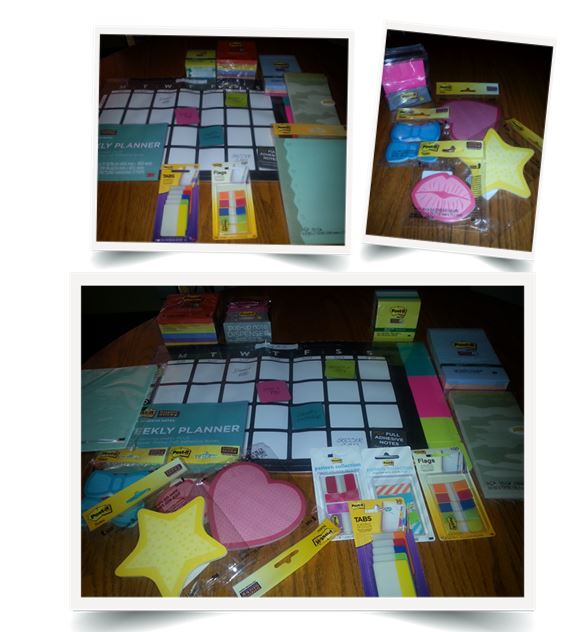 The Post-it Brand World of Color collections are available in a variety of sizes including 3×3, 4×4, and 4×6, featuring Post-it Super Sticky Notes, Post-it Recycled Super Sticky Notes and Post-it Greener Notes, priced from $7.99.
My son relies on Post it tabs. As an English Major every book has its riveting quotes that deserve their own tab. With my son's frequent essay writing he replies on the durable burst of colour from Post-it brand's Geo Pattern Collection to remind him of the key points that guarantees his future success.
My 21 year old son isn't the only one who has made the Post-it brand part of their daily life. As a brain injury survivor my eldest daughter uses Post-it Notes as an external memory aide.
Post-it Die Cut Notes & Post-it® Specialty Notes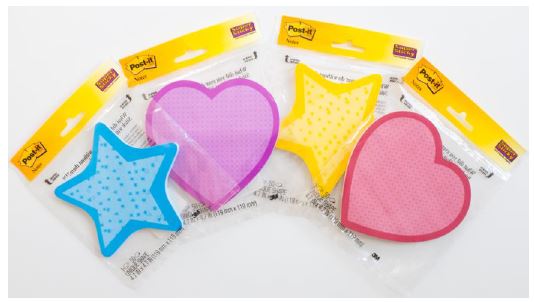 Available in a wide range of shapes, sizes, and colors, these new Post-it Die Cut Notes and Post-it® Heart/Star Shaped Notes bring a touch of fun to my daughter's daily reminders. She uses them to write motivation messages to herself or as a reminder to unplug the coffee maker. Priced from $3.99
Post-it Pop-up Notes Wrap Dispenser
The Post-it Pop-up Notes Wrap Dispenser sits next to my daughter's phone along with a pen. She uses it to jot down appointments and messages etc that then gets transferred to both her whiteboard and day planner.
Post-it® Dry Erase Surface
You can enhance brainstorms and creative thinking, daily communication and/or group projects and studying with Post-it brand's instant flexible, whiteboard.
The Post-it Dry Erase Surface can be cut to size and applied in three simple, steps – unroll, peel and stick – Post-it Dry Erase Surface will adhere to conference tables, walls, and even to existing whiteboards in need of a refreshed surface. Post-it Dry Erase Surface is designed to help you collaborate and communicate in more places. For product details and to learn more about how companies are using Post-it Dry Erase Surface to rethink collaborative workspaces, visit www.post-it.com/collaborate.
Priced from $22.99; available in 4 sizes
Additional helpful products for homework, study time and daily living include: Post-it Message Flags and Writable Flags, Post-it Grid Notes, Post-it Page Markers, Post-it Super Sticky Printed Calendars, Post-it Super Sticky Printed Notes with Magnet and more!
With the back to school season upon us, this is a time of year when staying organized is crucial. Post-it® boasts more than 4,000 unique products and has become one of the most well-known and beloved brands in the world. Visit post-it.com and get posting.