June 5-7 is a long weekend for elementary school students—so come out and join Showcase, for Toronto's largest #ShopkinsSpree event ever!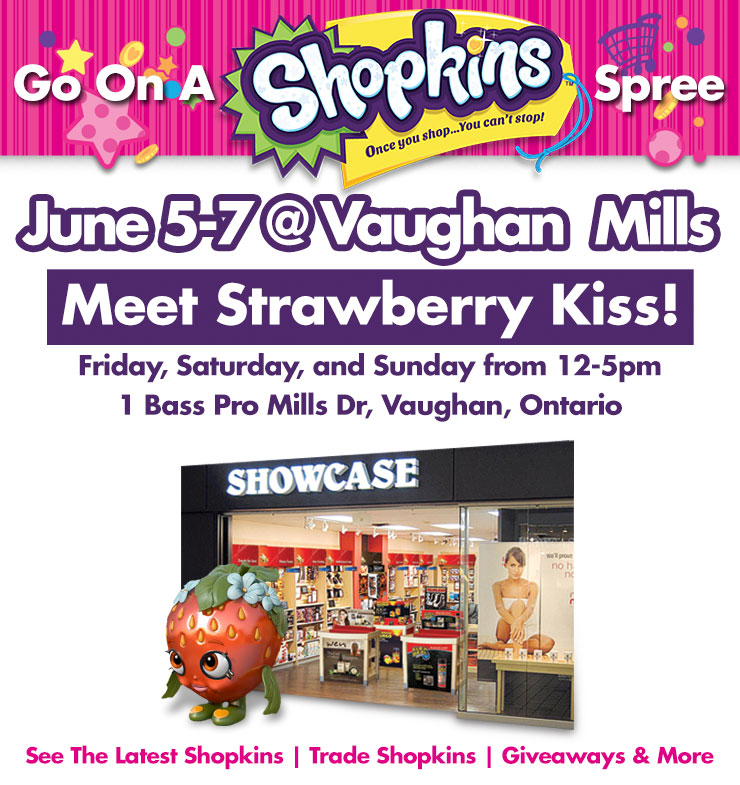 The 3-day event at the Showcase store at Vaughan Mills Mall is full of fun activities for the whole family!  Your children will be able to show off their Shopkins and trade their way to the perfect collection. Take a picture with Strawberry Kiss, enter the "Create Your Own Shopkins" colouring contest, browse Canada's largest selection of Shopkins toys, including individual characters that you can't find anywhere else, and enjoy giveaways and prizes!
As the home for Shopkins in Canada, Showcase boasts more than 100 items with more arriving daily, including characters, playsets, books and board games — offering greater selection and stock than any other retailer in the country. And while other retailers only sell mystery packs, Showcase is the only retailer in the world to offer individual Shopkins characters at ShopAtShowcase.com to help kids complete their collection.
Other Shopkins benefits available exclusively to Showcase Insider customers (free to join) include:
A complimentary full-colour Collector's Guide which shows every character to make collecting easy.
Free Shopkins! Kids can act just like mom and dad with their very own free Small Mart Member Card, where every Shopkins purchase at Showcase gets them closer to free Shopkins.
The newly launched Showcase Collector's App lets fans search for collectables by character, season or rarity, and keep track of which ones they have and which ones they need. The smartphone App also lets users create and share wishlists for easy shopping.
Interactive Events held at select Showcase stores across Canada, featuring Shopkins.
Website-link:  http://www.shopatshowcase.com/shopkins-spree/
Shopkins – The Biggest Tiny Toy in Canada
Launched by Moose Toys in July 2014, and distributed in Canada by Imports Dragon, Shopkins is a collectible line of characters inspired by items found in the grocery store. They spark imaginations and are fun to collect with unique characters, such as Apple Blossom, Pa' Pizza and the Limited Edition, Cupcake Queen. The line also offers themed playsets such as the Small Mart, Fruits & Vegetables and Bakery Stand.
When not collecting, Shopkins fans are glued to the brand's YouTube series of webisodes, which have been viewed more than 13 million times and have spurred over 400 million views of online fan videos.
About Showcase
Showcase is The Home of the Hottest Trends, and the world's largest retailer of its kind, specializing in emerging trends in health, beauty, as-seen-on-TV, home, and toys. With 101 permanent stores in Canada's best shopping malls, Showcase offers fresh and unique trends in a retail environment where customers can "try it before they buy it", play, and have fun. A Canadian success story, Showcase employs a unique combination of trend identification technology, an agile supply chain, and a fun and interactive retail shopping experience. The result is the hottest trends first, fast, and often exclusively, making Showcase the leading destination for trending products and gifts.
To learn more about Showcase, visit ShopatShowcase.com.