Got a weather junkie on your Christmas list like I do? Why not consider an indoor outdoor thermometer. With an indoor/outdoor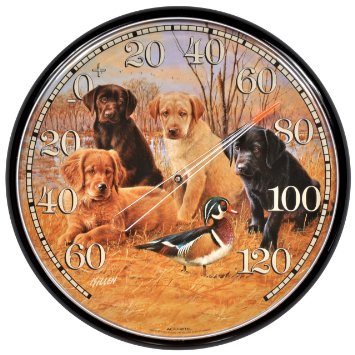 thermometer you can know the exact temperature inside and outside of your home at any time. By knowing the temperature outside one can heat and cool their home more efficiently inside, saving money on those high end electric bills.
For "Ducks unlimited Fans" comes this Lab Puppies Thermometer.  Passionate outdoorsman and Ducks Unlimited "International Artist of the Year" award winner, Jim Killen, captures the playful imagery of black Labrador retriever puppies in this AcuRite 12.5″ Indoor or Outdoor Thermometer. Jim Killen is well known for his creative and timeless animal and dog portraits. As a dog lover, I just love Jim's work.
I found the "12.5″ Lab Puppies Thermometer" to be functional, practical and accurate.  It includes integrated hang hole for easy mounting. Made from durable, weather resistant construction the thermometer measures temperatures from -60 to 120 degrees Fahrenheit. The thermometer can be read easily and used effortlessly. The large lettering makes it easy to read from a distance.  The thermometer comes with a One-year limited warranty.

For under $20.00 you can have a really nice thermometer that looks great and provides you with the information that you need.
For true weather nerds like my uncle, more environmental gifts are easy to be found at acurite.com.
As a first time customer I'm pretty impressed with AcuRite's high standards and can see myself shopping there again in the future. Be sure to check out AcuRite's Holiday Gift Ideas page for your gift giving needs.
Do you live in the US? There is still time for you to save on orders over $50.00.