Ladies let your outfit reflect your festive cheer with that perfect holiday dress and a pair of pantyhose from Silks. When it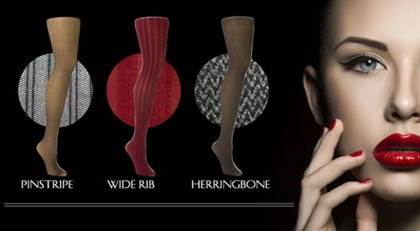 comes to pantyhose Silks Hosiery has it all. This holiday season Silks Hosiery takes on a more dramatic turn. Taken back to the days of divine etiquette, gentlemen's clubs and cocktail parlours, masculine favorites such as pinstripe, wide-rib and herringbone patterns are given a delicate feminine twist creating an understated look that is at the height of luxury.
Make a little black dress sizzle by wearing sultry pinstripe patterned pantyhose or Reversible Diamond tights underneath.
If Shape is your concern, pulling together that perfect party look is as easy as slipping into Shape-  tummy and thigh shaper, which flattens tummy, trims hip, and slims thighs. With its long-line panty design you will flaunt a perfect figure when you make your grand entrance to the staff party in that red sequenced dress.
Make flawless, radiant legs a reality with Gloss Ultra Sheer Lace top stay ups. The silky smooth feel and hint of luminous shine will be giving your legs lots of attention. Available in black, bronze and golden.

Silks Illusion provides the perfect amount of coverage, giving legs a flawless, naturally bare look. Unless they look closely they won't even know you are wearing pantyhose. Available in clear top, toe-less and sheer to waist.
Be Beautiful – Silks Plus Size Hosiery Line
The Silks woman is proud and confident.  She steps out with elegance, always looking her fashionable best.  New for 2013, Silks
Beautiful features a range of hosiery options including tights, panty hose and knee highs that delivers the ultimate comfort and fit for the  woman who embraces her curves.
Beautifully Comfortable
Each style in the Silks Beautiful collection is masterfully knit with Xceptionelle, an innovative knit whose construction allows for more overall comfort from waist to toe.  The sheer 20-denier pantyhose (SRP $10, available in black and natural) and opaque 80-denier tight (SRP $18, available in black) both feature an ultra-stretch waist and panty area that eliminates any rolling of the waistband or pinching of the inner thigh area. The inner thigh area on both styles has also been specifically constructed with a higher denier yarn that helps prevent chafing and increases the longevity of the garment.
Beautifully Stylish
Low-slung or sky-high, heels are a beautiful compliment to every outfit. When it's time to pair them with a sexy pair of jeans or eye-catching pants, a pair of knee highs is an absolute must.  The Silks Beautiful collection has the perfect offerings featuring both a sheer 20-denier knee high (SRP $7.50, available in black and natural) as well as a 40-denier opaque knee high (SRP $8, available in black). The styles also feature an ultra-stretch leg band that allows a woman to move with ease from day to night.
This season whatever your style make sure you have Silks on hand. I guarantee your legs won't go unnoticed.
Silks pantyhose are available exclusively at major department stores nation-wide and retail $15 and under.
Website: silkshosiery.com