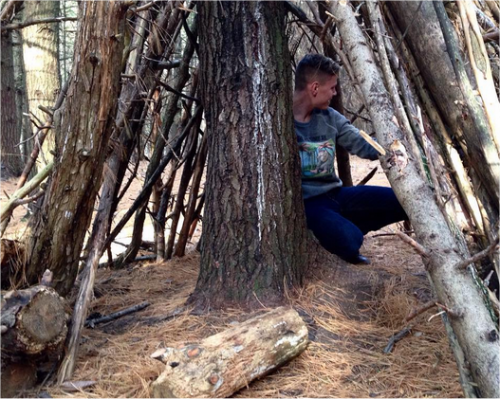 Out of Print celebrates the world's great stories through fashion. Celebrating some of the greatest stories ever told, Todd Lawton and Jeffrey LeBlanc started Out of Print Clothing to let readers show off classic cover art from books such as The Great Gatsby, Mockingbird, and Pride and Prejudice, just to name a few. They also feature classic children's titles like Where the Wild Things Are  by American writer and illustrator Maurice Sendak, , Charlotte's Web and my youngest daughter's all time favorite- Curious George.
Out of Print works closely with artists, authors and publishers to license the content that ends up in their collection. Each shirt is treated to feel soft and worn like a well-read book.
Since its founding in 2010, Out of Print has expanded into a variety of literary merchandise, from tote bags to iPhone cases
to socks to baby onesies. One of the company's best-selling lines right now is the Library Stamp Collection of shirts, designed to look like those old-fashioned library checkout cards.
In addition to spreading the joy of reading through Out of Print merchandise, the company acknowledges that many parts of the world don't have access to books at all. They are working hard to change that. For each product sold, one book is donated to a community in need through their partner Books for Africa. To date they have donated over 1 million books.
As a lover of books, "Out of Print" was made for my son. A good story is important to Jake- a 4th year university student majoring in ancient religion and English. My son currently owns 4 of the company's shirts- soon to be 5. This past summer
he purchased a "Where the Wild Things Are" sweatshirt from Out of Print, which you can see him modeling it in his Instagram photo above.
He has now added "The little Prince" sweatshirt to his wish list, as he owns a first edition copy of the little prince, by Antoine de Saint-Exupery. Insanely popular, with over a million copies sold every year, few books have been as universally cherished as "The Little Prince." From Out of Print Clothing Classic Collection, the iconic cover design from the ever so popular "The little Prince" is printed on a super soft blended fleece. Available in sizes xs to xxl, The Little Prince sweatshirt will have your recipient searching for the meaning of life.

Jake writes: "I fell in love with "The Little Prince" when I stumbled upon a first edition of the children's classic. Out of Print perfectly captures the whimsical nature of the book in their cozy winter fleece. The print is great for adults and youth alike. Those who wish to reminisce about their favourite young prince who has fallen to Earth will love this sweater. Wrap yourself or your loved ones in Saint-Exupéry's beautiful story this Christmas."
George has become one of the most beloved and most recognizable characters from children's literature. Books about
Curious George, including the seven original stories by Margret and Hans Rey, have sold over 75 million copies.
My soon to be three year old daughter absolutely loves Curious George.
Your curious little one will explore the world in style sporting a Curious George tee. Made of a Cotton/poly blend, the unisex t-shirt is available in yellow and red and in sizes 2 to 10 years. I ordered a size 4 for my daughter, which I found to fit rather large allowing her to get more wear out of the shirt.
Take some time looking "Out of Print" ample catalog of products. You sure are to find something for the book lover on your holiday shopping list. I know my son would love to own several items from the company. My daughter on the other hand is just happy with Curious George.
It's unclear what the role of the book cover will be in this new era, but Out of Print Clothing feel it's more important than ever to reflect on their own individual experiences with great literary art before it's forever changed
What's your story?