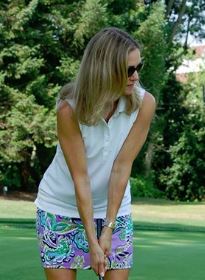 Known for their fun, bright colors and patterns in active wear and fashion wear, B-Skinz continues to produce products that meet the needs of today's females.
Made of a light blend of nylon and spandex, B-Skinz multiwear skortz is a must have addition to your summer wardrobe. From sports to swimming to just hanging out, these skorts are so versatile. They would be perfect for a beach party or round of golf.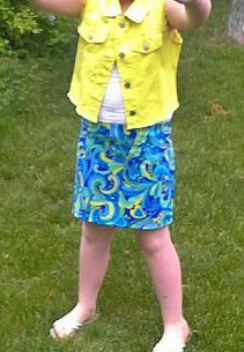 My daughter owns the lovechild design skort. The pattern is a beautiful mix of blue, green and yellow. The swirls and dots remind me of a whimsical peacock all a flutter. I am impressed with the beautiful design of this skort. The colours are so vibrant. The compression shorts sit just short of the skirt, leaving them hidden below the skirt line. The shorts in the love hild design are a neutral black.
This Skort has many possibilities for wear. This Skort can be worn as a skirt, paired with a lovely shirt or as a piece of swimwear. My daughter generally wears this in addition to her swimsuit. The material is much like a bathing suit, so it is fast drying and easily wearable even once it is wet. It can take you from the pool, to an evening out.
The sizing of the Skort is quite small though. My daughter who generally wears a 10/12 in children's, wears an extra small ladies in this Skort. When ordering online, I think many customers may be surprised by the small fit of the Skort.
B-Skinz clothing washes well. Even after multiple wears and washes the Skort still maintains it's shape and colour. We simply machine wash and hang to dry.
For the active lifestyle, B-Skinz skorts will have you covered.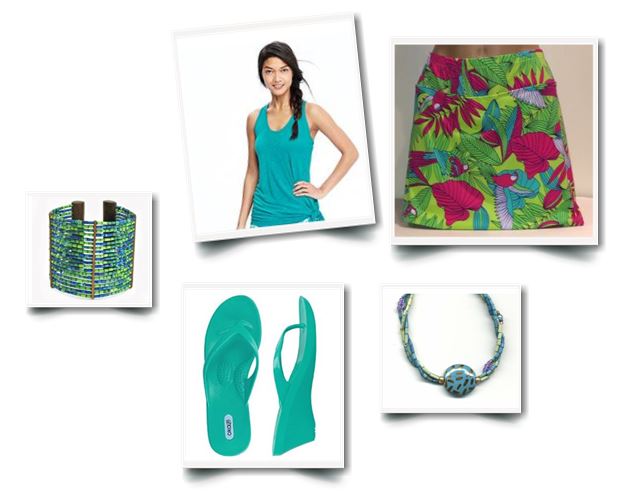 Check out our beach party outfit. You too can have this look! We think it is casual and yet oh so cute.
Shoes from oka-b.com
Jewelry from leakeycollection.com
Skort from B-Skinz
Tank from Old Navy
About B-Skinz
B-Skinz is a growing collection of comfortable, flattering, and crazy-colorful Nylon Spandex fashion wear, and active wear for

sizes XXS (girls) to XL (adult). B-Skinz products are made entirely in the USA and can be customized for group orders. Designed to complement standout personalities, dash through the tournament of life in a kaleidoscope of over 125 indulgent colors, metallics and designs. For more information, visit www.bskinz.com or follow us on Twitter and Facebook.