Flashing led blinky lights, body lights and other such items offer sparkling light combined with attractive colors to any celebration. Be it you are celebrating a special birthday, Canada Day, or Independence Day, commonly known as the Fourth of July, or hosting a bachelorette party, these flashing accessories make a bold statement.
Some of the products, which are a hit among children are glow sticks, bracelets, blinky light necklaces, light-up wands, and swords.
Children are not the only ones who enjoy these fun-led products. The latest in flashing sunglasses, fiber optic hair extensions, led cowboy hats, and fedora hats are a welcome addition for teens and adults who wish to try out the latest in funky and fun looks. Imagine the attention you will draw when you walk into an event sporting a flashing hat.
My daughter and I will be celebrating Canada Day with a little Red & White from Blinkee.com.
There's nothing cooler than flashing sunglasses. I will surely be the center of attraction with my heart-led sunglasses that add a bit of fun to my Canada Day outfit.
Blinkee.com carries over 60 different led flashing sunglasses to choose from. Styles like multicolor sunglasses and electro banray sunglasses are popular for celebrations and the cool holiday styles add a little seasonal cheer to any event.
This Canada day the sky won't be the only thing lighting up. The Red Sequin Cowboy Hat that my daughter can be seen wearing is going to light up the evening.
To activate the LEDs I simply press the button located on the battery pack inside the light-up cowboy hat. I can vouch for the lights to be nice and bright. You can choose from flash, blink & steady lighting. Each sequin cowboy hat comes with 3 AG13 batteries, which are included, installed, and can be replaced. The hat features an adjustable string, so it will fit either a child's or an adult's head. The hat is not recommended for children under five, so of course, supervision is recommended.
Color-changing fiber optic hair extensions are a great way to liven up any event. Glowing fiber optic hair extensions come with two coin cell batteries which are replaceable and have an easy clip attachment for your hair. Wear the thin barrette under the hair, so that only the lights are visible, or wear the Swarovski crystal version like a regular barrette. Glowbys are 14″ long, but can be cut to any length – a star of light appears wherever the fibers are cut. They are perfect for children, teens, or adults.
This upcoming Canada Day I will be showing off my Canadian pride with a Canadian Flag body light, which comes with a pin to easily attach it to my shirt. To turn the blinky flashy body light on, I simply screw the rear cap down tightly until it makes contact. To turn the flashing body light off, I unscrew the cap until the contact is broken. It's that simple.
Add a little red, white and blue, to your outfit this upcoming 4th of July with any of the Independence Day flashing pens from Blinkee.com.
Blinkee.com has several products perfect for summer entertaining from lighted bar wear to ice cube lights, to submersible led lights, and much more.
Clicking on each item's thumbnail image takes you to the larger image, with product info and details including age group and dimensions, and a funny poem written by Matt, which is specific to each item on the site. Blinkee.com also offers discounts if you buy in bulk.
Canada Day Outfit
For those of you celebrating Canada Day, I have put together what I think is the perfect July 1st outfit.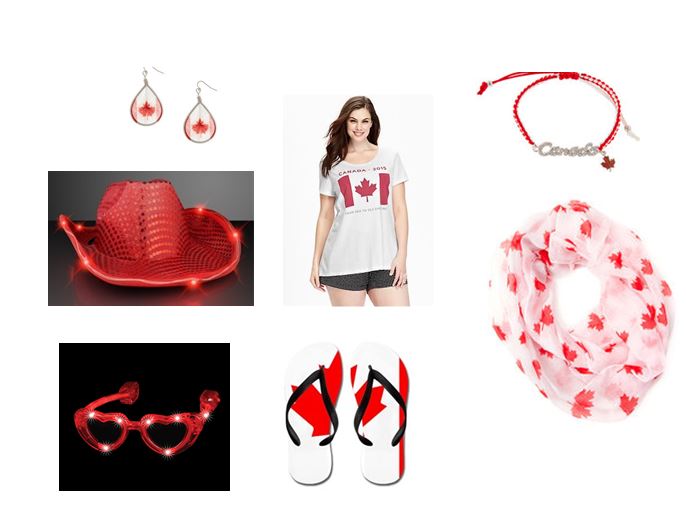 ( Hat and sunglasses from blinkiee.com, flip-flops from Cafepress, t-shirt from Old Navy, scarf and jewelry from Claire.)
What are you wearing this Canada Day?