Shop celebrity sunglasses from brands like Ray Ban, Tom Ford and more. Nobody loves their designer sunglasses more than celebrities. With the constant invasion of the paparazzi, it's no wonder celebrities make sunglasses part of their wardrobe, and so many top celebrities set the newest trends with their fashion finds. Remember how popular Tom Cruise in Risky Business made Wayfarers? 
We may as well confess, that most of us like the idea of being fashionable, and keeping up to date with the top celebrities. So just what sunglasses are celebrities wearing?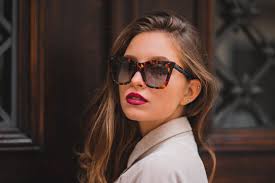 Marc by Marc Jacobs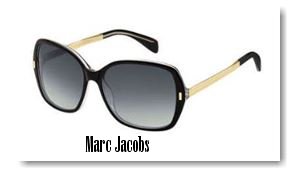 Marc by Marc Jacobs is a fashion line created by renowned designer Marc Jacobs. Designed in America and manufactured in Italy, these glasses offer 100% protection from harmful Ultraviolet rays. The collection offers numerous options to suit one's taste and style. Marc has many loyal followers including Jessica Alba and Victoria Beckham, both of whom are style icons.
Ray Ban sunglasses
Perhaps no other brand is as well known as that of Ray Ban sunglasses. Designed to be not only functional, but stylish, the look of Ray-Bans has dominated pages of fashion magazines and the big screen for more than 70 years. Celebrities such as Angelina Jolie, Beyonce, Johnny Depp, Matthew McConaughey, Jennifer Aniston, Robert Downey Jr and Leonardo DiCaprio are often seen wearing Ray Ban. If you are looking for high quality, Ray-Ban is the brand for you. My husband owns a pair of Ray-Bans and loves them.
Barton Perreira
Launched in 2007, the Barton Perreira collection of eye-wear has made a tremendous impact on the fashion industry. Handmade in Japan using only the finest materials, BARTON PERREIRA's eyewear is distinctive in design, precision, and fit. Each pair of BARTON PERREIRA's sunglasses are handmade by skilled artisans, and produced in limited quantities making each piece as unique as the wearer. Some of the celebrities that wear Barton Perreira include Jessica Biel, Chloë Sevigny, Ryan Gosling, Brad Pitt, and Justin Timberlake.
Tom Ford
Another popular brand amongst celebrities is Tom Ford, with Brad Pitt and Gwen Stefani being huge supporters of the brand. Tom Ford was the man behind Gucci's success. He later went on to create his own label. Tom Ford Sunglasses come in many different styles and designs, from subtle to statement-maker. They certainly are distinct and display a modern twist of Hollywood glamour.
Oliver Peoples sunglasses
It seems like you can't find a Hollywood celebrity who doesn't own a pair of Oliver Peoples sunglasses. The line offers both men's and women's styles that hint on vintage, but keep things modern with sleek styling. Fashion sunglasses from Oliver Peoples are not only stylish and comfortable, but also manufactured with durability in mind.
Now it's time to break open your piggy bank and look under the sofa cushions to scrape together $200.00 for a new pair of Ray-Bans. To help you out, you can find the latest discount coupons for Neiman Marcus and save on sunglasses from top designers, such as Oliver Peoples, Michael Kors, Ray-Ban, Tom Ford, Barton Perreira, and Marc Jacobs.