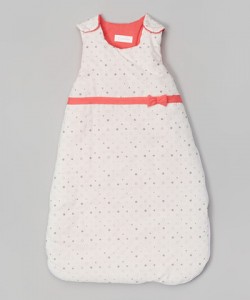 Baby sleep sacks have been popular in Europe for the last few decades. They have now gained popularity is both Canada and the US. Sleep sacks are a safer alternative to traditional loose and bulky baby blankets. Because they replace the need for blankets, baby sleep sacks eliminate the risk that your baby may become entangled under a loose cover. One of the newest sleep sack on the market the Badaboum Ultimate Sleep Sack was actually developed by a French expatriate in California.
Vanessa couldn't find the kind of traditional baby sleep sacks all French moms use. Her strong fashion design background urged her to design her own, and before she knew it they were in high demand among friends and relatives. Soon after, she founded Badaboum to bring warmth and safety to American infants.
Very similar to a form-fitting sleeping bag, Badaboum's sleep sacks are lined with 100% cotton for natural comfort. The filling is made from soft, breathable polyester padding allowing your baby and toddler to maintain a constant body temperature when asleep.
The recommended room temperature is 65- 72°F, so you may need to adjust your baby's nightwear to help ensure that there is no overheating when wearing a Badaboum sleep sack.
Designed to wear over your infant's regular clothes, each Badaboum sleep sack features snaps at the top and features a two-way zipper for easy diaper access, making night time diaper changes a breeze.
Not only is the sleep sack perfect for nap time and bed time, but the all-in-one design is perfect while on the go, ensuring baby stays covered & warm without restricting any natural movement. Badaboum sleep sacks are available in two sizes (0-6 and 6-24 months).
Putting my daughter inside the sack was really easy and convenient. All I had to do was to lay the sack flat inside the crib, place her over the sack, and snap and zip! Unfortunately, my daughter was never one to take to swaddling. She has always needed her feet free, so as I expected she did not like the Badaboum sleep sack.
Connect with Bada Boum
bada-boum.com| Twitter | Facebook
Thank you to Celebrity Baby Trend Expert, Rachel Florio-Urso who introduced me to BadaBoum's sleep sacks.