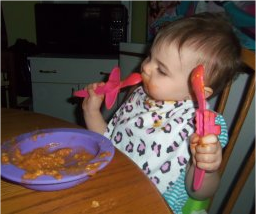 The transition from feeding your baby to them wanting to feed themselves comes so quickly.  A majority of children show a wish to self-feed at about nine months. When your little one shows an interest in self-feeding choose first finger foods that are easy to eat and dissolve in the baby's mouth.  After the initial stage of finger food,  you'll be ready to move towards spoon feeding. Some parents are reluctant to introduce a spoon or fork because it can be such a messy affair. Take it from this experienced mom, while having the best baby-feeding utensils won't guarantee mess-free self-feeding, it definitely can help make things a little easier.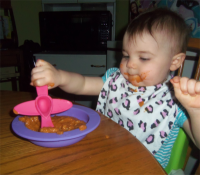 Oogaa is an Eco-friendly company that strives to provide safe, sustainable, and durable products to parents.  Founder, Sam Skolnik created the range after discovering that many plastic feeding utensils break down and leach harmful chemicals through daily use.
Oogaa award-winning mealtime sets consist of one colorful 9-ounce silicone bowl and 2 silicone spoons, which are shaped to look like a train and an airplane to stimulate the baby and make each feeding experience fun.  They certainly bring new meaning to the "here comes the airplane (choo choo train)" feeding routine.  In addition to being simply adorable,  the set is are made with the safest, most environmentally stable materials.  Unlike plastic, Silicone will not corrode or deteriorate. It also doesn't support the growth of fungus, mold, or bacteria. It is odorless, tasteless, stain resistant, heat resistant,   microwave, dishwasher, and freezer safe.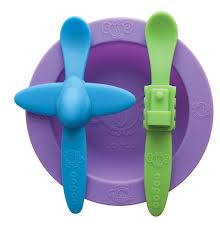 The soft flexible silicone edges on the spoon are gentle on the tender gums of little ones who might be cutting teeth.  The flexible bend makes it easier to get the food to the mouth and the chubby handles are easy for little hands to grasp The bowl is also easy for little ones to scoop food from; not too shallow, not too deep.

Coupled with their fun and quirky bold designs, Oogaa makes mealtimes both safe and fun. Even the pickiest of eaters won't be able to resist eating with oogaa, which has now become Sweet P's favorite spoon to use. There's a variety of Oogaa feeding products ranging from bowls, spoons (both Zoom-zoom airplane and choo-choo train designs); and pliable silicone placemats that grip so well they won't move from the table.
The Oogaa range can be purchased here in Canada directly from
amazon.ca