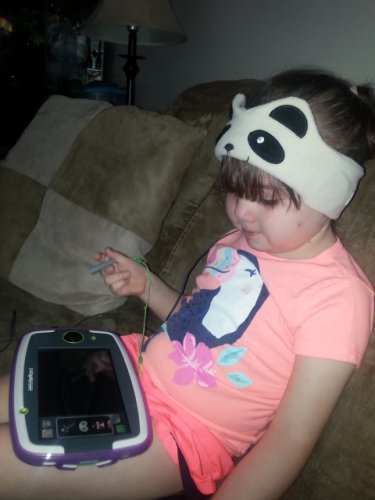 Original CozyPhones are a fleece headband featuring embedded speakers. They are the perfect alternative in headphones for kids who dislike earbuds and parents who struggle with bulky over the ear headphones.  We recommend CozyPhones headphones for toddlers and preschoolers or children that have any sort of autism, or sensory disorder.
When shopping for headphones for your kids, the safest option is a pair that limits the maximum volume. Medical professionals suggest children's head sets not be set above 85 decibles (dB). CozyPhones headphones have a sound limit of 85 decibels. The sound pressure isn't very loud, so it is safe for my daughter's young ears.
The headphones have a standard 3.5mm audio jack that fits my daughter's Leapfrog LeapPad Platinum Kids Learning Tablet and her portable DVD player, therefore making them perfect for travel.
CozyPhones have a long, soft wire that allows my daughter to move quite freely while wearing them. The fabric on the headband is super soft and the headphones come out of the headband for easy washing.  The headbands have 2 opening at the very back inside of the band. Place your finger in and slide the 'speaker,'  so they are at the right position for your child and then press down to secure.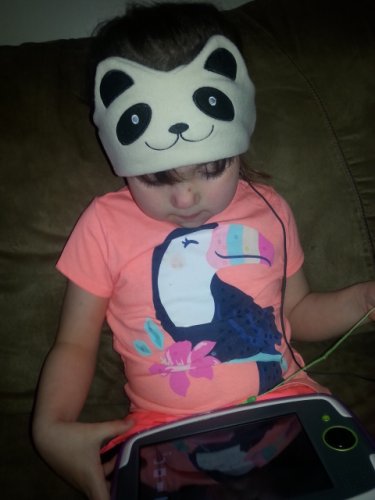 The headphones fit my daughter's head perfectly (she's four) and according to her they are comfortable. They stay in place, with no slipping and they don't press on her ears or irritate her. They're great to use around the house or when we're traveling in the car. They are nice and compact, so I can easily store them in her tablet case.
CozyPhones are certainly kid-friendly with their fun animal design. We own a cute panda, but there are also unicorns, foxes, monsters and frogs. 
Overall we love our CozyPhones and would highly recommend them to any parents looking for the perfect children's headphones. CozyPhones headphones, are available in both kid and adult sizes. Visit them at https://www.cozyphones.com.
Thank you to CEO of Celebrity Baby Trends Rachel Urso for introducing to yet another great product!