Step away from a long and stressful day and imagine melting into a personal sanctuary; one that wraps you in a warm and comforting hug. That's the magical essence of the Danish-style Hygge interior design. This guide will explore what Hygge decor means and how to make it work in your home. It shares practical tips on things like furniture choice, textiles, accessories, and lighting.
Even better, there are plenty of ways that you can incorporate Hygge on a tight budget, meaning everyone can benefit from it. Read on to learn how to transform your space into a room where contentment and well-being come first.
What Is Hygge Decor?
Hygge comes from a Danish design concept. It's pronounced Hoo-gah.
Though there is no direct English translation, it loosely means coziness. It's all about creating a warm, happy, welcoming, and comforting space in our home.
From that standpoint, it's bigger than mere decor. It's also about creating a peaceful, serene atmosphere, enveloping all senses.
One key aspect of Hygge's philosophy is a space with simplicity, functionality, and a connection to nature. It means creating a sanctuary that puts you in touch with nature and invites you to disconnect from the modern world.
In decor terms, the Hygge style involves soft lighting, natural material, and cozy textiles. It embraces the simple things in life and puts well-being at its core.
Essential Elements in a Hygge Home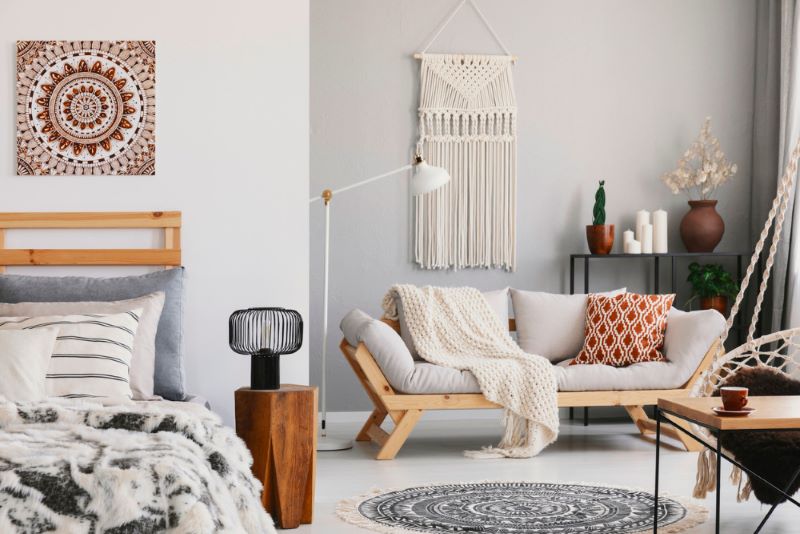 Hygge, by nature, is a relaxed interior. There are no hard and fast rules. However, there are some subtle guidelines to achieve that Hygge look.
Keep It Simple
The Hygge decor is clutter-free and clean. The beauty of Hygge is its simplicity. That means going for an understated design that radiates serenity.
Neutral Colors
If you've browsed the Hygge design on social media, you'll notice one prominent theme: mainly neutral decor. For an authentic Hygge decor, choose soft earthy tones like creams, browns, and greys.
Natural
Hygge embraces the natural world as much as possible. You won't see plastics in a Hygge interior.
You'll see a natural world centered around something enchanting, like a fireplace. You'll get more fireplaces home decor ideas here.
Personal Touches
Hygge is about grounding yourself, and it's not about material things. The perfect Hygge design incorporates many personal touches, such as a bookcase of your favorite novels or a wall of family photos.
Hygge-Inspired Furniture Ideas
The right furniture choice will add warmth and comfort to your home and highlight your Hygge design.
Your furniture choices should be about comfort more than anything else. With sofas and chairs, choose soft, oversized seats to sink your body into, and avoid more modern angular styles.
Choose a soft, warmly-toned wood for tables, sideboards, and bookshelves. Any natural material like wood should feel rustic.
Avoid highly polished, high-end designer pieces. Remember that Hygge interior is about a harmonious lifestyle. Your furniture must be functional more than anything else.
How to Add Cozy Lighting
The perfect Hygge style will only come together with the proper lighting.
Consider how uneasy you would feel about settling into a warm, cozy home with bright, fluorescent light. In other words, don't leave lighting as an afterthought. It's central to a Hygge-style living space.
Lighting fixtures that avoid harsh overhead light are best. Choose options such as floor lamps, wall-mounted lamps, or table lamps instead for a softer glow.
Modern lighting often comes with dimmable and light-changing options, perfect for getting a soft, warm light in the room. Don't forget about candles.
Neutral, soft candles add beauty and depth to the room. And aromatherapy candles will help you achieve that sense of calm.
Last, remember the importance of natural light. In the daytime, maximize light from your windows with soft, thin curtains in pale colors.
Using Textiles and Accessories
Hygge interiors layer textiles and embrace many accessories to strengthen the final look. When choosing texture, revert to that cozy neutral theme that will keep you on-trend.
That means plush, knitted throughs and cushions. Mixing patterns and textures will help you create that beautiful layered effect.
Rugs are essential for adding softness to rooms, too. They look stunning if you are fortunate enough to have rooms with natural stone or wood flooring.
Incorporating interesting and eclectic accessories with a mix of colors and designs styles will help add that personal touch.
Hygge and the Link to Nature
Hygge aims to help you feel at one with nature. The best way to do this is to bring some outside world into your home. Nature helps boost our calm and well-being, and your rooms will feel more serene.
Your first step is to add lots of indoor plants. Wooden accents are an essential feature too. Choose accessories like stone or leather, and drape natural textiles like fur or wool onto sofas and armchairs.
Small touches work wonders too. Natural shells, sand, pinecone, or flowers add a touch of the wider world to your sanctuary. They will all infuse your home with organic, wholesome Hygge essence.
Choosing Budget-Friendly Decor
Hygge decor is the opposite of extravagant, designer interiors. So if you are on a budget, this is good news. Because it means you can get the perfect Hygge look without breaking the bank.
Thrift stores and online second-hand websites have a wide variety of decor that fits perfectly with a Hygge interior.
For example, you can buy accessories like old framed photos, books, or rustic wood pieces, even on a tiny budget. You can even collect things like stones, tree bark, and shells from your local surroundings to add charming touches.
Embrace Hygge Decor Lifestyle
Your surroundings can have a profound impact on your sense of well-being. Transforming your home into a place of warmth, comfort, and simplicity can create that sanctuary you crave.
Hygge decor is the perfect style for those who want a home that looks beautiful and feels fantastic too. For more on-trend home inspiration and tips, continue exploring our website.