For women who want to maintain a fresh look, the optimal age to start aesthetic treatments is 30 years old. This is when the first wrinkles begin to appear on the forehead and around the eyes, as well in addition to the first signs of volume loss and the appearance of fatigue, sadness, or even resentment on the face. This is a good time to begin methods to maintain a youthful appearance, as wrinkles and facial volume changes are not yet too pronounced and in most cases can be reduced with minimal interventions. Regular treatments can help maintain a beautiful and glowing appearance for a long time.
Dermal fillers are based on hyaluronic acid, a natural substance found in the skin. It is produced by the body, but as we age, its levels decrease, resulting in wrinkles. One of the most important characteristics of hyaluronic acid is its ability to retain large amounts of moisture – its molecules can hold many times their volume of water. This substance plays a key role in many processes, promotes cell division, and helps to maintain skin elasticity.
Before beginning the procedure, it is essential to consult with the doctor who will be performing it. After discussing the desired results, the specialist will choose a customized solution, taking into account the features of your face and the area where hyaluronic fillers will be injected. You will also be able to express your preferences and have your questions answered during the consultation. Dermal fillers (fillers) are injected using a fine needle, and high-quality products already contain an anesthetic that reduces pain. Pain is only felt during insertion, but it subsides quickly due to the analgesic included in the dermal filler.
Choosing a quality filler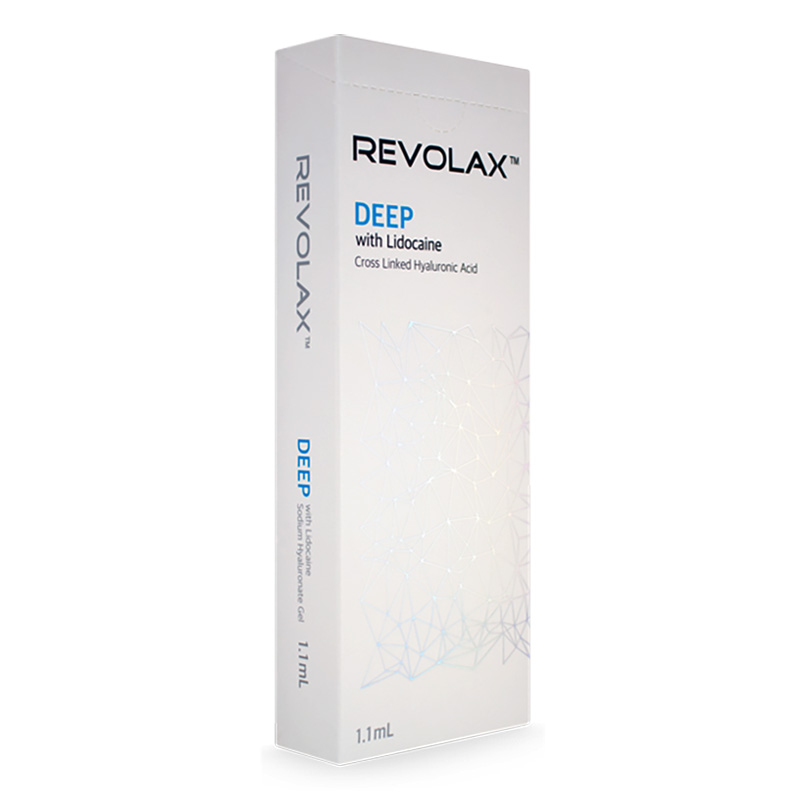 Revolax Deep Lidocaine is a medium-dense gel from the Revolax range, which also includes the lighter Fine and thicker volumetric Sub-Q. The entire range of fillers, including Revolax Deep, is available with or without anesthetic.
This monophasic formulation contains 24 mg/mL of reticulated hyaluronic acid and 0.3% lidocaine. The flexible gel is easily injected into the dermis and evenly distributed, maintaining the natural effect for a long time.
Revolax Deep with lidocaine is available in 1.1mL syringes. The kit includes 2 27G needles. The price of the Korean drug will be favorable for both specialists and their patients.
Scope of usage of Revolax deep lip filler
Revolax Deep is a filler with a wide range of usages. The main objectives of using this drug are:
⦁ correction of nasolabial folds and marionette wrinkles;
⦁ increasing the volume of the lips;
⦁ shaping the shape of the nose;
⦁ volumetric modeling in the temple area.
⦁ Results of the procedure
Injectable cosmetology is becoming more and more accessible to people with different income levels. If the original fillers of famous European or American brands are not available to patients because of the price, Korean products are an excellent alternative. Their cost is significantly lower, and the result is similar. Reviews of women and men who have already undergone injections of this drug, confirm that the result lasts for 8-12 months.
Contraindications
Contour and volumetric plastic surgery with the use of hyaluronic acid is not carried out for persons under 18 years of age, pregnant and lactating women, and people taking antibiotics and anticoagulants. Absolute contraindications include:
⦁ The presence of oncology;
⦁ low blood clotting;
⦁ autoimmune diseases;
⦁ a history of severe allergy or anaphylactic shock.
Consult your doctor before undergoing the procedure.