Are you an upcoming bride wanting to make a lasting impression with your wedding attire? Perhaps what's needed is a backless gown for the big day. The appeal of a backless dress is apparent, but this article has got you covered if you want to show off your style and personality. This article will show you how to add your own unique spin to a backless wedding dress, making it a one-of-a-kind masterpiece. Prepare to immerse yourself in a sea of ideas and information that will elevate the beauty and sophistication of your backless wedding dress.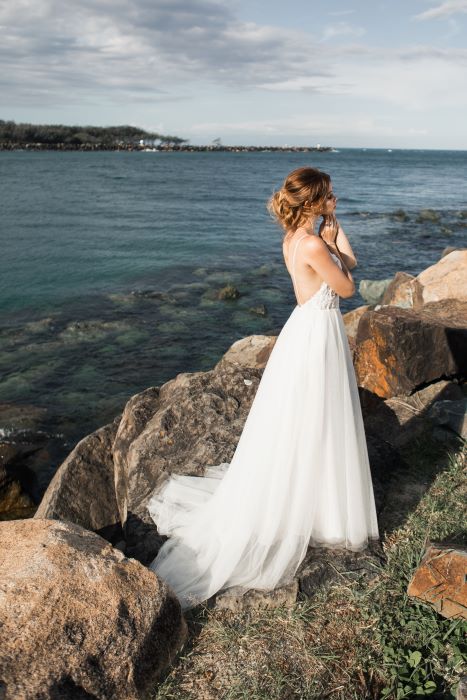 Accentuating Pieces
You can add a dash of glamor to a backless wedding dress by accessorizing it with a statement necklace or bracelet. Think about wearing a bra made of chiffon flowers if you plan on wearing a backless dress. This one-of-a-kind accent does double duty as a protective and supportive garment and a beautiful finishing touch. The light and airy chiffon flowers are the perfect finishing touch to your gown. Choose a bra with adjustable straps to make sure it fits perfectly and is comfortable to wear all day long. This accessory will surely make a statement and enhance the attractiveness of your backless wedding dress, whether you choose a subtle white or ivory flower bra that matches the dress or goes for a stark contrast with colored flowers.
Accessory and Appliqué Work
You can add a magical touch to your backless wedding dress by accessorizing it with embellishments and appliqués. Create an eye-catching accent on your naked back by adding lace appliqués, beading, or sparkling sequins. You may add a dash of glitz and personal flair to your dress by strategically placing these decorations. There is a huge variety, from simple florals to elaborate patterns. You can rest assured that your backless dress will be a work of art on your wedding day thanks to the stunning interplay of light and texture created by these decorations.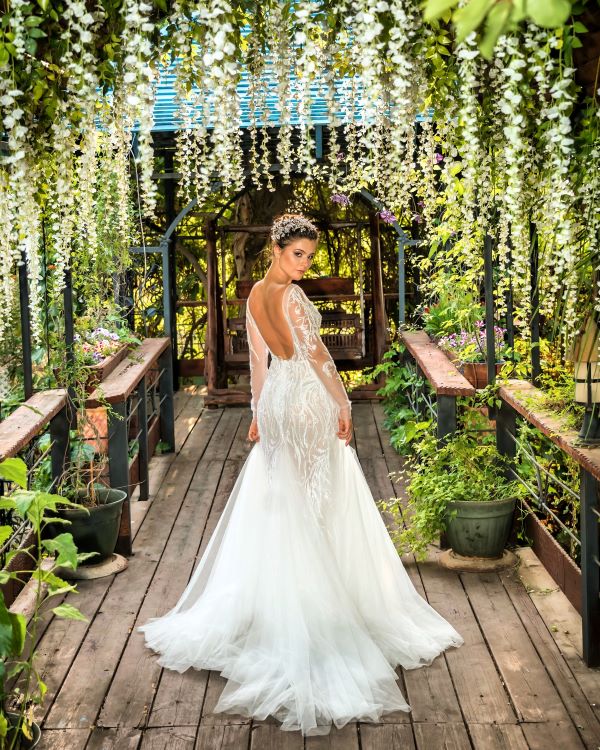 Details that are Pure Illusion
You can add a touch of mystery and elegance to your backless wedding dress by including sheer or illusion elements. Choose delicate fabrics like tulle or lace to adorn your naked back in a subtle and enticing way. Delicate and sophisticated style can be achieved without sacrificing discretion or ease of wear with the use of sheer panels or illusion cuts. These finishing touches will give your dress an air of mystery and intrigue while retaining a trace of bareness. Whether you go with a simple illusion panel or elaborate lace overlays, adding sheer and illusion elements to your backless dress will give it a more dramatic and ethereal appearance, perfect for your wedding day.
Cloaks and Sashes
If your backless wedding dress is lacking in dimension and movement, consider draping or wrapping it. Use fluid fabrics such as chiffon or organza to achieve a sophisticated and alluring look. In addition to the draping, a chiffon flower bra for a backless dress can add coverage and a beautiful visual element to the outfit. You can add a touch of elegance and sophistication to your outfit by draping fabric over your naked back or by wearing a sheer caplet that falls gracefully over your shoulders. To ensure that your backless dress oozes effortless beauty on your wedding day, consider pairing it with a chiffon floral bra for a stunning and one-of-a-kind style.
Diverse and Stylish Backs
If you want your backless wedding dress to stand out, it's time to start thinking outside the box regarding back designs. To make a statement and express your unique style, try keyhole cuts, crisscross straps, or elaborate lace-up accents. In addition to highlighting your naked back, these patterns add visual intrigue and reveal your unique sense of style. Several options are available, whether for a clean and contemporary style or something more nostalgic and retro. You may show your originality and ensure that your backless gown stands out as a true representation of your style and personality on your wedding day by choosing a back design that compliments your dress silhouette and enhances your overall look.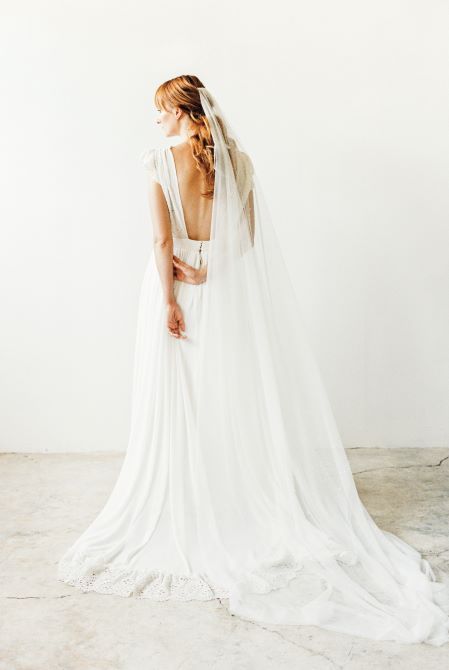 Custom Embroidery and Initial Patches
Your backless wedding dress can have a special and unique touch with the addition of embroidery or a monogram. Think of adding details that are meaningful to the two of you, like your initials, wedding date, or a symbol. This wonderful touch improves the dress's aesthetic value and makes a memorable keepsake for your wedding day. These unique touches should be properly integrated by a professional embroiderer or dress designer to avoid clashing with the rest of the garment's design. Whether you decide on understated and delicate embroidery or bold and detailed monograms, this personalized feature adds a distinctive and poignant touch, making your backless dress really one of a kind and displaying the love and devotion shared by you and your partner.
Conclusion: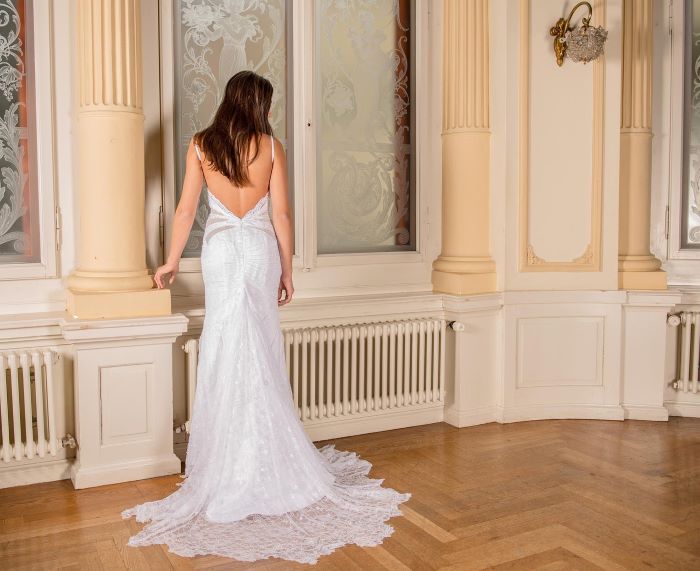 Remember that you can do anything you want to your backless wedding dress while exploring alternatives. Accessories that make a statement, embellishments and appliqués, sheer and illusion details, draping and wraps, back designs that are one-of-a-kind, and embroidered monograms can all help make your gown a one-of-a-kind expression of your unique style. Don't be afraid to try new things and make your wedding day look and feel exactly how you've always imagined it.