Author: James Speakman
As the months and weeks leading up to your wedding day are ticking away, you and your bride-to-be are likely making your way through your respective and collective to-do lists. With so many things to organize, it is easy to let yourselves feel a bit overwhelmed. Whenever you are feeling the stress, it can be a good idea to turn your attention to one of the more fun aspects of preparing for your big day. For instance, choosing your wedding ring is one of the jobs on your wedding to-do list that can be lots of fun. Spend an afternoon with your bride-to-be looking over your options and finding the perfect rings for one another that you will exchange on your big day.
Choosing her ring will be relatively straightforward. She will want something that compliments the engagement ring you gave her and that suits her personal style. However, choosing your wedding ring can be a bit more complicated simply due to the variety of options you have to consider.
In order to help you choose the perfect wedding ring for yourself, here are three things that you should think about as you are going through your options.
1. Metal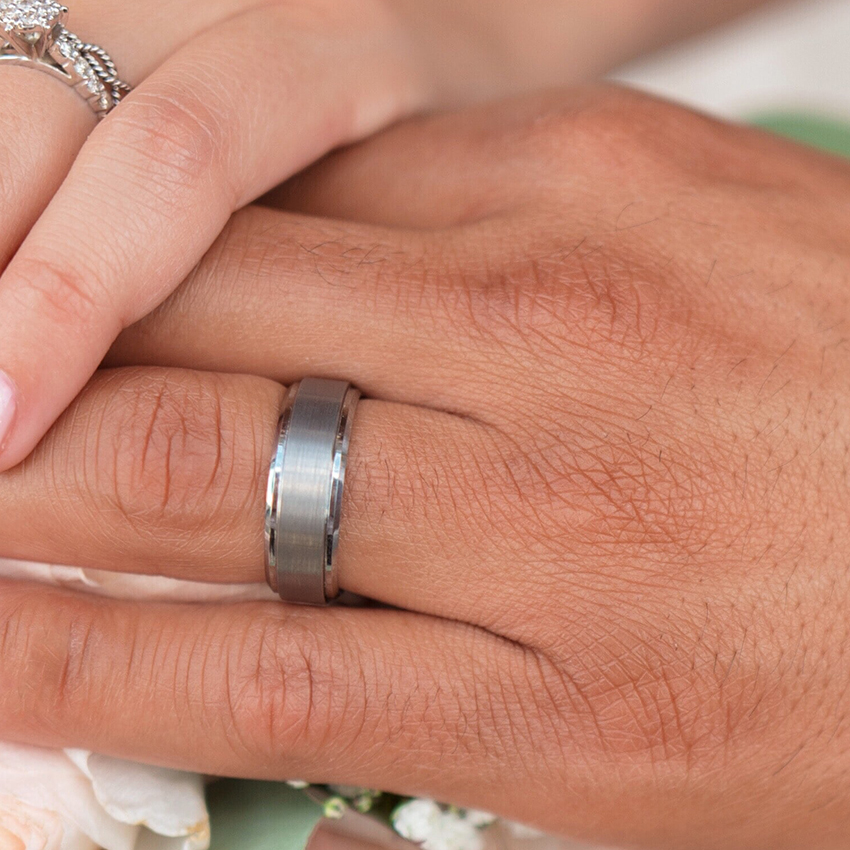 While you want your ring and hers to look nice together in photos, you don't have to default to selecting a ring that is in the same metal as hers. Rather, you can find a perfectly complimentary ring for yourself that is in a different metal entirely.
Generally speaking, the average groom wants his wedding ring to be relatively durable and resistant to damage. NewmanBands.com Tungsten Rings for Men offer a range of such rings in a durable metal.
Other grooms who aren't as concerned with durability are more likely to prefer rings in gold or platinum. These tend to be more on the pricier side, though, so make sure that if this is your preference, your budget can support it.
2. Width
Once you have your metal figured out, you can then look to identify the style of ring that you prefer the most. Men's wedding rings tend to range in width between 5mm and 7mm. However, depending on your finger size, you might prefer something that is a bit smaller or larger.
The only real way to know which width is going to look best is to try on some options. Remember that you ultimately want a ring that is comfortable enough for you to wear all day regardless of what you have going on.
3. Unique Details
With the general aspects of your ring established, you can then move on to those points that will make the ring completely unique and personal to your style. Whether this means choosing a ring that incorporates diamonds or gemstones in some manner or opting for a finish that is brushed or weathered in appearance, this is where you really get to choose a ring that is right for you. This is often the most fun part of the whole process, so take your time to find the perfect wedding ring.