It has been a strange and wild year for many students as they have gone from in person learning to remote learning. My daughter has been doing remote learning from the start of the school year and has benefited from it greatly. With that said she is still struggling in reading and math. I think this is due to the 3 years she spent in French immersion. Phonics has been the one teaching tool that has been beneficial in my daughter's reading along with learning sight words. At the begging of the 2020-2021 school year my daughter was only able to read about 12 sight words. With the help of her father and I, her teachers and learning aids such as Think Tank Scholar Flashcards she can now read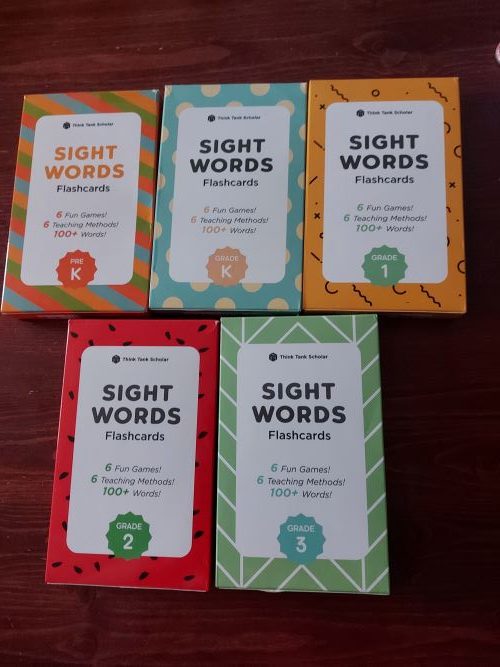 Think Tank Scholar Flashcards are an excellent tool to use in the summer and throughout the school year. Think Tank Scholar Sight Words Flashcards will help your child learn and practice reading words that most commonly are found in books. Learning sight words will assist your child in learning these words at a glance. The flashcards are made from high quality card stock with a smooth laminated coating and rounded edges for easy sorting and handling.
The bundle of all five packs contain 520 Sight Words Flashcards curated from Dolch and Fry word lists covering commonly found words in books and schools for pre-kindergarten up to third grade. Many schools use words from either the Dolch 220 List or the Fry 300 List as their source for high frequency words to teach.
Sight Word Games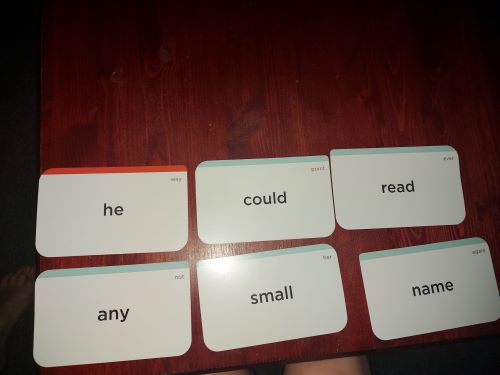 Playing games is an entertaining way to help your child learn to automatically recognize sight words. Think Tank Scholar has also included 6 different teaching strategies and games so your child(ren) can have fun while mastering the words.
The 6 fun sight word games include:
Complete the Sentence – Create a sentence with 1 missing word. Your child selects a sight word card that fits and reads the sentence.
Create a Sentence – Give your child a set of flash cards. Your child then creates a sentence from the cards.
Interactive Sentence – Divide the deck between two children. Take turns playing cards to create and modify a sentence.
Slapjack –  Lay out 3 or more flash cards within arms reach of each player. Call out one of the words. The first player to slap down on the card with that word gets to keep it. The player with the most sight word cards at the end wins.
Search the Deck – Choose a sight word from the index card. Your child searches through the deck to find the corresponding card.
Word Hunt – Give your child  a news paper or magazine. Select sight words from the deck and have your child find them in the magazine.
Our Thoughts
With over 100+ words in each grade level pack, my daughter was super excited that she could read so many of the words without any issues. I started with the  Pre-k and Grade K words for her. She knew many of the words in each of these packs. We advanced to the Grade I pack where she knew over half the words and then to the grade 2 and then Grade 3 cards to see how she would do. Let me just say that working hard to learn these words by sight (memorizing) pays off. She knew about 1/4 of each of the grade two and grade three cards at the beginning of practicing. As we worked through more of the words and focused on phonics she found herself reading more words.
With repeated use of these cards I know that her reading is going to blossom this summer. In addition to using these flashcards to help with word recognition, I will also be using the cards for spelling tests to improve my daughter's spelling ability.
So, as you can see, Think Tank Scholar Flashcards are sure to grow with your child(ren.)
JK and Kindergarten Sight Words List
a, all, am, an, and, are, as, at, be, bed, big, book, box, boy, but
about, add, after, again, air, any, ask, ate, away, back, ball, black, blue, brow, came
Grade One Sight Words List
also, always, animal, area, around, baby, been, before, bell, best, both, brother, buy, call, chair
Grade Two Sight Words List
almost, along, answer, because, below, between, birds, body, children, circle, city, clean, close, color, complete
Grade Three Sight Words List
able, above, across, against, ago, ahead, allow, another, became, become, began, begin, behind, being, better
I have shared 75 words to get you started working with your child.  You can purchase all 500 words – Think Tank Scholar Sight words Bundle Pack at https://www.thinktankscholar.com/  online at Walmart and at Amazon.
Since its introduction in March of 2018, the Think Tank Scholar bundle set has become a 2018 National Parenting Product Awards (NAPPA) winner, 2018 Family Choice Awards winner, 2018 Mom's Choice Gold award winner for educational products, 2018 Homeschoogle.com Homeschool Homeschool Friendly award, 2018 Tillywig Brain Child Toy Award, and earned Creative Child Magazine's 2018 Product of the Year Award for Kids Early Educational Products category
How do you work on sight words at home?