Over the years, it was often heard "I would get a dog if I only had more time at home." Then came the COVID-19 pandemic, and everyone got a dog.  And along with everyone getting a dog a new fashion trend gained in in popularity. Dog bandanas became a fun accessory that showcases your dog's personality. They are available in a huge range of designs for every day wear or for special occasions like Halloween, Birthdays and Christmas. There's nothing cuter than a dog wearing a bandana. I recently stumbled upon J & M Dog Bandanas on Facebook. Their bandanas and accessories are handcrafted and made with love by Angie Hammond in Kitchener, Ontario.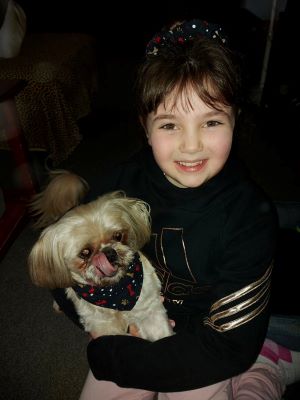 J & M Bandanas are made to fit your own dog's unique neck size. The materials thin and light, which my dog maxi seems to prefer and actually barely notices that he is wearing it. The bandanas are all pre-washed, so there is no shrinking.  For an added cost your dog's name can be added to any bandana. They come in sizes for big and small dogs, and in many various patterns. I chose a dog bone pattern for Maxi.
Angie asks for your dog's neck size to create a perfect fit that flatters your pup in all the right places! No more one size fits all. Angie wants to make sure dogs of every shape and size have a tailored bandana for their neck.
Maxi's neck size is about  14 inches, so I asked for the bandana to be measured to 14 1/2 inches thinking that would be enough room for him.
If you have a fluffy dog, I suggest going up a couple of inches so the bandana can sit more naturally amongst the fluffiness! Angie advised me that I should order a  size  medium, which is the size (16"-18") to allow room.
X-small (9"-11")
Small  (12"-15")
Medium (16"-18")
Large(19"-22")
X-large (22"-26")
XXL (26" and up made on request)
One of my favorite features about these bandanas are the fact that they feature a parachute closure for easy on and off. Gone are the days of struggling to tie on your pups bandana to make it look perfect.
From  dog walks to dog park outings, J & M Bandanas has you covered with cute matching hair scrunchies and headbands. J & M Bandanas also makes pup bow ties, baby headbands and bibs. J & M Bandanas make wonderful gifts. If your pet owner has long hair, they will love a scrunchie and matching bandana from J & M Bandanas. My daughter can be seen above sporting her matching scrunchie.
About J & M Bandanas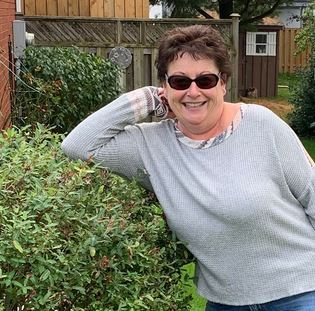 J & M Bandanas  was founded by Angie Hammond from Kitchener, Ontario. She had recently retired from her career of 28 years and started J & M Bandanas because she love seeing her  pup's in Bandanas. It was hard to find good quality products, so she begun making them herself. She then begun making them for friends and family members who had dogs and the business took off from there. J & M Bandanas now has a loyal following of customers all across Canada and in parts of the US as well. This is something Angie loves doing and she enjoy getting pictures from her happy customers with their new bandanas on.
Join their Facebook group so you can keep up to date with everything J&M Bandanas https://www.facebook.com/groups/529567041396561/
Visit them on Facebook: https://www.facebook.com/jmpetbandanas/