If we had to choose only one pet accessory, it would be dog bandanas. Not only can you buy a wide range of patterns and colors from Ephemera Art Studio, but you can also buy several for different occasions.
Each bandana is made of breathable cotton. Each dog bandana has a snap closure, so you can quickly place it around your dog in seconds instead of having to tie (and re-tie) the bandana.
The bandanas are photo-worthy and comes in fun and playful patterns. I do suggest measuring your dog's collar before ordering so that you get the size just right. Our bandana was a little too small, but fit reindeer.
Scrunchies
Ephemera Art Studio not only offers a wide variety of unique bandanas for your dog, but they make hair scrunchies too. I remember sporting a scrunchie in the 90's. Fast forward, and scrunchies are now a 2021 fashion trend. The scrunchie has been showing up on runways, on celebrities and influencers. Scrunchies are just not for women. According to The Wall Street Journal, "munchies" or "male scrunchies," are in high demand. Even Jason Momoa, who played Khal Drogo on Game of Thrones has been seen sporting a pink scrunchie. For many designers like Patrice, scrunchies are a good way to recycle left over fabric. The scrunchie my youngest daughter owns is a pretty red velvet.  A scrunchie in a low ponytail can be dressed up for holiday photos or easily dressed down with a flannel shirt and sweats.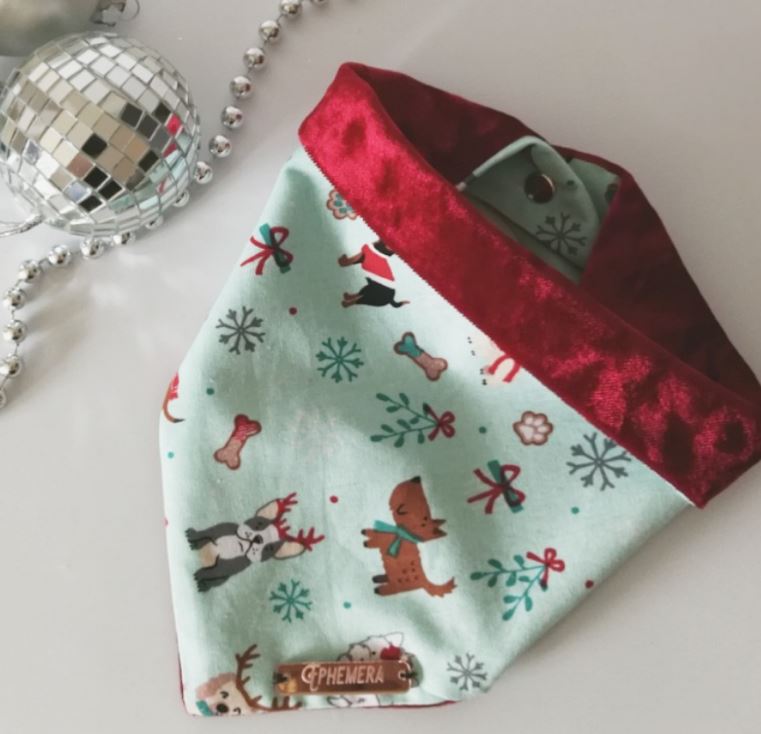 Ephemera Art Studio started from Patrice's interest in new materials for painting work, especially encaustics and collage work. When she began using mixed media to create objects for crafting markets, many events got canceled due to the pandemic.
Ephemera was born when she realized that people needed masks. Patrice set her attention on making face masks. Her face mask was successful. For four months, all she did was sew the face masks, constantly improving the process and selecting high-end cotton material.
When the demand for face masks dwindled, she had colorful fabric leftover, so she started sewing pet accessories.
At Ephemera Bespoke Handcrafts & Atelier, Patrice strives to create unique products: necklaces, leashes, vests, coats, raincoats, bandanas, headbands, pet bow ties, and human bow-ties. In 2022, Patrice plans to introduce a new eco-friendly dog ​​beauty product line, including dog shampoo, deodorant, mites, and insect repellent.
https://www.instagram.com/ephemerapatrice
https://www.facebook.com/ephemerapatrice/