A first-time watch is an essential tool in your child's learning process. While analog watches can teach a child skills that a digital watch cannot, digital watches are still ideal for children who have already mastered telling time. Plus digital watches come with other features  such as timers, alarms, and stopwatches, which offers additional opportunities to understand time concepts. Ovvel kids watches are excellent beginners watches for younger kids that comes with easy to use functions. Available in a rage of attractive designs and colors this New York companies watches make ideal gifts for Christmas.
Each Ovvel kids watch has a stylish design that children will love. Twelve digital designs are available, pairing different colors with different  patterns on the straps. Choose from butterflies, cherries and bows to tools, sports and professional hats.
The butterfly digital Ovvel watch my daughter owns comes with innovative easy to read features. The watch features 7 colorful led lights that allows her to see the time in the dark. Backlighting colors are dark blue, green, red, sky blue, orange, purple and my daughter's favorite pink. She can adjust the lights by simply holding down the upper-left backlight button for 3 seconds. The watch also displays the week and date as well as the time. She can also use the Ovvel digital watch as an alarm clock and calendar. It has a 12H/24H time function, hourly chime, and an impressive 1/100 seconds stopwatch with the split count function.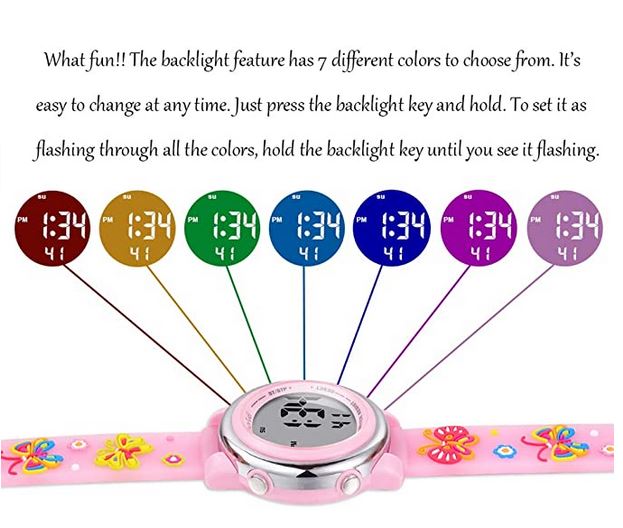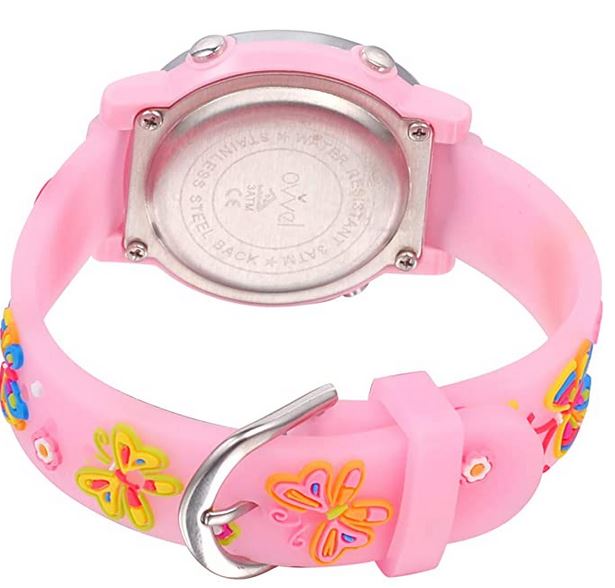 Ovvel watches are built to last with a long battery life and an adjustable strap providing the perfect fit. The butterfly digital Ovvel watch features a high-quality silicone strap, which is soft on her wrist. The strap is adorned with a butterfly floral pattern, adding a playful touch. Setting the time is simple too, though the watch does come with clear instructions.
The nice thing about Ovvel watches are that they are not patterned after any children cartoon characters that will eventually lose their popularity with your child(ren) over time.
If you're looking for a durable digital or analog watch for your child, consider Ovvel. They have some lovely designs in their analog selection as well. If you are looking for a simple watch option for yourself or your teen daughter, OVVEL carries a beautiful selection of women and teen watches too.
No matter what Ovvel watch you choose, you can rest assured you won't have to answer "What time is it Mom?" forever.
OVVEL is a watch manufacturing company offering the ideal timepiece for the discerning child. Available in a range of attractive colors, from funky pieces to cool ones, their watches make it the ideal gift for children of all ages. Their process entails the use of the highest quality of Japanese movements and batteries. With keen attention to every detail, they assure their clients perfection. They deliver exquisite timepieces that bear the mark of authenticity and exclusivity, at affordable prices.
At OVVEL, they are committed to providing quality services. Visit them today and give the gift of time.