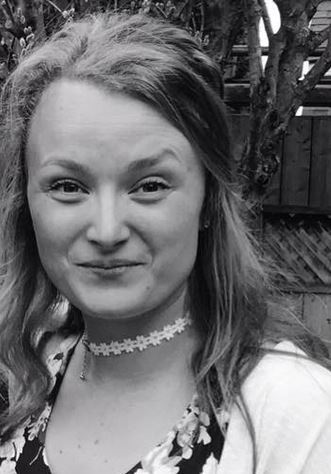 Oh, the hats we wear! Today's Woman wears many hats. We are a mother, wife, friend, daughter, career woman, homemaker, teacher, chauffeur, coach, and the list goes on and on. Taylor Milburn a high school math teacher and lacrosse coach from Whitby, Ontario, is an Ontario business owner who wears many hats. When she isn't teaching math, coaching lacrosse and being a mom to her son Charlie she is busy running her own business Handstaymped Designs
As one of the team captains on a lacrosse team, Taylor was responsible for getting mvp gifts for all the teams. The coaches had an idea to get stamped necklaces. With a limited budget Taylor decided to buy the supplies and hand stamp each necklace herself. It was that summer she found a passion for creating jewelry and has been making items ever since. From there she expanded into designing apparel pieces.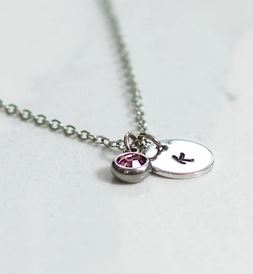 Giving jewelry as a gift is an admirable idea. Personalized hand made jewelry is a gift that is extremely customizable. At Handstaymped Designs you can order pieces that represent a loved one's personality, color preferences or style. Plus, no matter what your taste or budget is, you'll be effective to find an item to fulfill your needs. Handstaymped Designs has jewelry appropriate for every age and gender. Even for the most "hard to shop for" people on your Christmas list would delight in receiving a piece of jewelry from Handstaymped Designs.
Angel in Heaven Bracelet
This 8mm beaded bracelet contains rust metallic hematite beads, matte natural white turquoise gemstones and silver accent spacers. The bracelet is then customized with a small silver circle stamped with a loved ones initial and placed beside an angel wing charm. Angel wings symbolize protection, love, honor and faith. They provide us with strength through a tough time. Angel in Heaven is a lovely and thoughtful way to commemorate the life of a loved one. This sentimental bracelet would make the perfect bereavement gift. Enduring a loss is never easy. For the bereaved, getting through the holidays can be a struggle. If you know someone facing the first-holiday season without a loved one, Angel in Heaven is a beautiful sentiment to offer comfort during an unimaginable time.
For me the "Angel in Heaven" holds so much sentiment and emotion.' This bracelet called my name. My second daughter Katie was born with a congenital heart defect. A congenital cardiovascular defect occurs when the heart or blood vessels near the heart don't develop normally before birth. Sadly she died unexpectedly during surgery. She was only six weeks old when she passed away. Following my daughter's death, I wrote a poem titled "Angel in Heaven."When I saw the bracelet Taylor made I was taken back to the poem, I wrote 29 years ago following my daughter's death. Loosing a child leaves a space in our heart that never can be filled. The "Angel in Heaven" bracelet honors my daughter's memory and is a sentimental keepsake I will now forever cherish. Thank you Taylor for designing something so meaningful.
Angel in Heaven

 © Rose DesRochers 1992




A gift so special, one month is all we had.
A time of anguish, but of love.
l want to grasp each moment, to captivate each tear.
Those fragile long lashes, her eyes first opening,
her tiny fingers.
The light from Heaven still glows around her smile.

Cradled in my arm's as l held her, one last time.
A child of the Lord's,
I can't understand his love for her.
Is it so greater than a parent?

Now her suffering is over; no more pain shall she endure.
As she lies sleeping peacefully
l know this is not the end.
It is only until tomorrow.

Someday, when God has chosen me
I too will walk down that long path.
And join her once more.
Until we meet again, sleep peacefully, my angel in Heaven.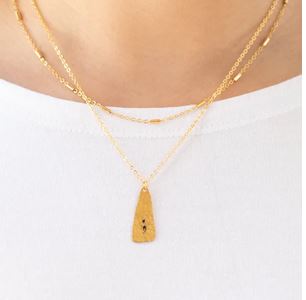 Handstaymped Designss has so many meaningful pieces from the "Angel in Heaven" bracelet to the semi-colon necklace that supports those who face the daily battle with mental health. Or choose from her selection of affirmation jewelry that promotes daily positivity and mindfulness.
Unisex Apparel Pieces
Speaking of which, I mentioned earlier that Taylor had expanded into designing apparel pieces. Picture above is Barb. Barb sports a knit cording, 100% cotton zip quarter sweater. On the left chest embroidered in pink are the familiar words Be Kind. Sincerely loving yourself requires daily practice. Perhaps the words "Be Kind" are a reminder that we need to start being kind to our-self.
As women we regularly put ourselves down and use phrases such as, "not good enough", unintelligent, unattractive, etc. Over time we begin to believe these ideas. They become a strong part of our belief system. Those same beliefs then lead to low self-esteem, social isolation, depression, anxiety, and relationship issues. Positive affirmations be it handmade jewelry or fashionable clothing are a powerful tool for reversing those negative ideas. Perhaps even this soft sweater will instantly remind others to be kind to each other.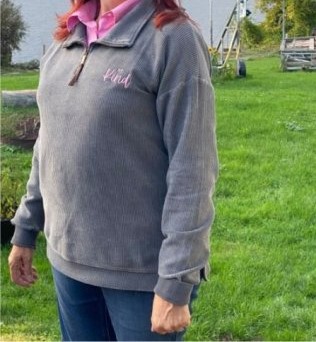 The chikca-d sweatshirt made with a waffle weave 100% cotton held its shape beautifully in the washer and dryer. I love the quote on the front (Be Kind) and is definitely one I will wear when I coach my teams.

The contrast collar looks great worn with a polo or blouse. The pink lettering really stands out against the slate grey of the sweatshirt.

—Barb
Handstaymped Designs also has unisex apparel with the powerful words " You are not alone."  Five dollars from each shirt sold will be donated to The Centre for Addiction and Mental Health (CAMH) to help fund mental health initiatives.  "You are not alone" toddler t-shirts are also available in sizes 2t to 4t.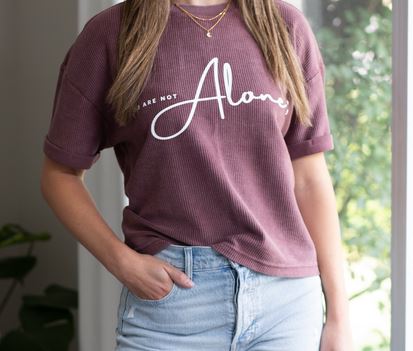 HandsTAYmped Designs key chains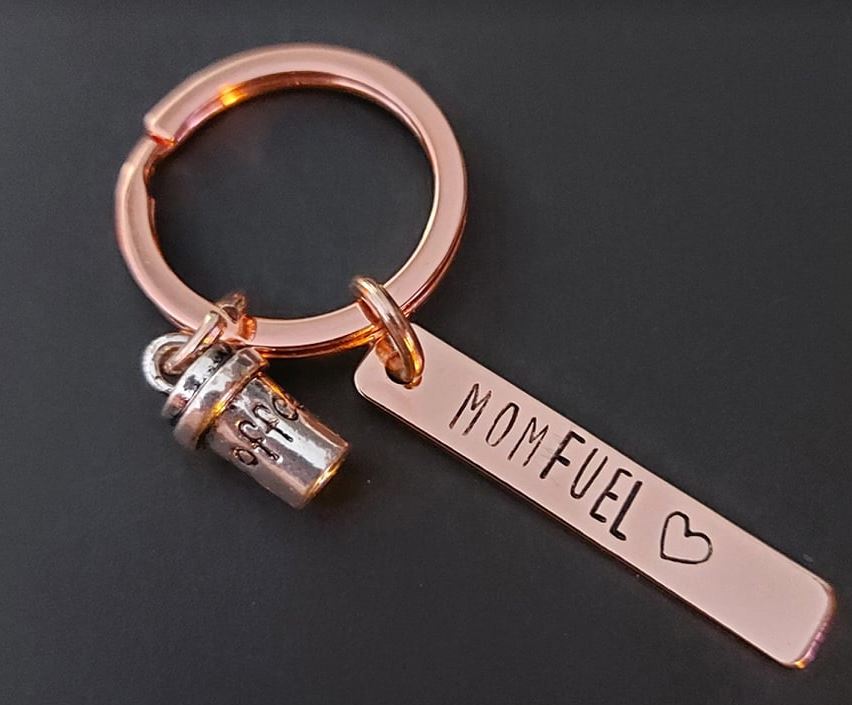 Wherever you are on the magical spectrum that is motherhood, I am guessing that "coffee" is what gets you through the day. This Momfuel Rose Gold Tone Key-chain is a perfect addition to your keys, purse or backpack! Hand-stamped with the word momfuel the key chain features a coffee cup charm. It is the perfect stocking filler, gift for that mom fueled by coffee or for yourself. I absolutely love mine.
Handstaymped Designs has a wide selection of key chains perfect for gift giving. From positive affirmation key-chains to fun key chains like the basic bitch for the Basic Bitch in your life, or you, I am sure you will find the perfect choice.
Shopping Canada has never been more important. This upcoming holiday season I would highly recommend supporting this neighborhood small Canadian own business. My husband Shawn and I are happy to shop locally Ontario as much as possible, and we support small businesses like Handstaymped Designs. Visit https://www.handstaympeddesigns.com unique selection today. With so many different styles to choose from in the Handstaymped Designs collection, there's sure to be one for everyone on your shopping list. Or sit back and relax while Taylor does her magic and creates the perfect customizable piece. Oh, and they even have a children's collection. What are you waiting for?