Germany is a country known to have one of the most fascinating creations from houses and buildings to medical innovations and transport systems. One can never deny that this country is among the most developed in the world. And if you are a watch collector or enthusiast, you're probably familiar with German watchmaking. The timepieces they produce not only contain elegant components but also reflect the rich history of horology.
If you are looking for a functional, reliable, precise, and immaculate watch to add to your watch collection, then get one from the long list of models produced by NOMOS Glashutte. It is a giant luxury watch company based in Germany that offers timepieces with admirable designs and built-ins. It is one of the market leaders in the industry because of its meticulous attitude and attentiveness to detail.
Get to know one of the most popular towns in Germany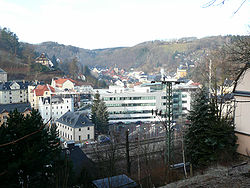 The town of Glashutte is one of the most popular towns in Germany located in the south of Dresden. In the early 1800s, it was a place where people conducted agricultural and mining activities. However, there came a time that it can no longer allow these activities to happen because of exhausted mines.  To save the region from economic recession, Ferdinand-Adolph Lange decided to turn the town into a small watchmaking capital. Nowadays, it is the town that houses some of the well-known luxury watchmakers, such as NOMOS Glashutte and A. Lange & Sohne. B.
A brief history of NOMOS Glashutte
In 1990, Roland Schwertner launched NOMOS Glashutte and started manufacturing timepieces in a small building located in Altenberger Street beside the Glashutte train station. He used the Bauhaus principle of minimalism as an inspiration in designing his watches.  Two years after the establishment of the company, it released its first four models designed by Susanne Gunther.
The first models released by NOMOS Glashutte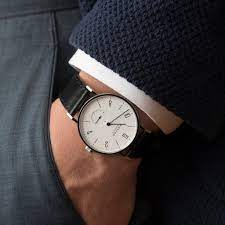 The Tangente has a classy and elegant appearance that you can use as a formal or dress watch. Watch collectors loved its round steel case, slender lugs, sapphire crystal, white dial, and a few numerals. Its set of three blued-steel hands proved the high craftsmanship of the company. The Tangente is a watch that sees no gender as it perfectly suits a gentleman in his black suit and a lady in her black dress.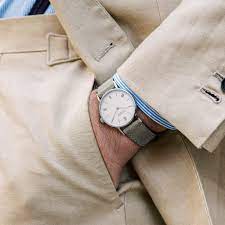 Aside from Tangente, NOMOS also released the Ludwig as part of its very first collection of watches. In terms of appearance, it looks like a Tangente but is different in so many aspects. For instance, it has Roman numerals with fine and subtle indexes making it accurate. There are now versions of the Ludwig with hand-wound and self-winding calibers, several case diameters, and various complications.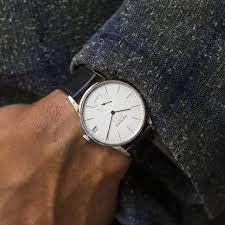 Among the first models released in 1992, the NOMOS Orion was the simplest because of its minimalist design. It features only a baton-like index and white dial. Despite its high-level simplicity, a lot of people patronize it because of its refined, sober, and elegant appearance. It is available in five different colors, namely white, pink, olive gold, and midnight blue. All hues have a slim hand-wound caliber.
New NOMOS Glashutte watches you can buy today
 The Minimatik 1201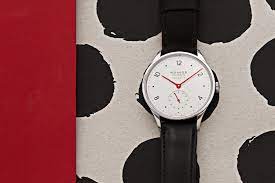 This Minimatik 1201 is a watch specifically made for women as it only has a 35.5mm case diameter. It has a very simple design with its round shape and open case back. It assures you that it can last for a long time allowing you to pass it to future generations because of its stainless-steel material. It has the caliber DUW 3001 with a power reserve of 42 hours and a frequency of 21600 BPH. You can use it during swimming activities but not during diving since it is resistant to water of only up to 30m. Its price can be as high as  $2,600 USD.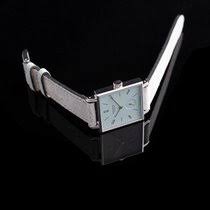 Another luxury watch for ladies is this Tetra 448 with a case diameter of 29.5mm, making it smaller than the Minimatik 1201. It is one of the best-selling timepieces from this brand because watch collectors admire its turquoise color, open back, and square-shaped case. If you look at its interior closely, you will see that it has an alpha caliber with 17 jewels and 21600 BPH. This manual watch can last for 43 hours after completely winding it. The stainless-steel case and leather band look perfect together. To get one for yourself, secure $1,600 USD.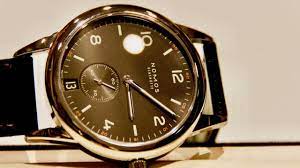 The Club Automat is a men's watch with a case diameter of 41.5mm. It has a robust and masculine appearance composed of the stainless-steel case, open back, Arabic numerals, silver-toned hands, and leather band. It is available in two colors namely galvanized and ruthenium, both with a luminescent finish. It has an automatic movement made possible by its Zeta caliber. You can use it during diving activities without it breaking due to its 100m water resistance. Because of this, it has a relatively higher price tag amounting to $2,800 USD.
The Ludwig 272 has a rounded stainless-steel case and transparent back with a 40mm case diameter. If not for its white printed hour markers located between Roman numerals and indexes, it becomes an all-black timepiece. Its leather band guarantees that it can survive adverse conditions. Just like the Minimatik, it only has a water resistance of 30m so it is not ideal to use when diving in deeper oceans. You can have it for $2,700 USD.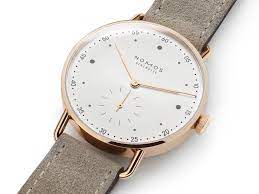 If you prefer a watch that you can use during formal occasions because of its elegant and classy appearance, then go for this Metro 1170. It is a ladies' watch composed of rose gold and a rounded case with an open back. In terms of movement, it has an alpha caliber of 23.3mm and 17 jewels. It has a power reserve of 43 hours, a water resistance of 30m, and a frequency of 21600 BPH. It is the most expensive on this list with a price tag of $5,300 USD.
In a Nutshell
NOMOS Glashutte is now one of the companies that manage to earn the admiration and respect of watch collectors. It is a credible and reputable luxury watch brand that continues to offer innovative timepieces. To get any of the 5 listed watches above, you may visit TheWatchCompany.com for great discounts!