Renovating your home is a big deal, knowing where to start and what to think about can leave you feeling stressed and overwhelmed. Renovation should be a fun and enjoyable process, and to make sure that it is you need to do a bit of research and preparation beforehand. The more organized you can be the more enjoyable you will find it and the lower your stress levels will be. Being organized will help renovations move and progress as swiftly and as timely as possible.
What Will You Do First
A successful renovation is planned and orchestrated – you need to establish what works will get done first. At all times you must ensure that your house is habitable and semi-comfortable to live in. To ensure that these standards are met you must decide what will be done and when. For example, will you focus on your kitchen first so that you can carry on cooking and preparing meals that will ensure you are fueled for the rest of your home renovations? Or will you focus on the bathrooms, making sure you have a place to relax and unwind after a long busy day?
What Have The Neighbors Done?
As silly as it sounds you can learn a lot from your neighbors and from looking at what work they have had done. Seeing what renovations they have undertaken and when may just be a turning point for you and your project and learning from their experiences may help you decide which work to undertake first.
How Much Will You Spend
How much are you looking to spend and how much can you afford to spend on your home renovations? Knowing your overall spending as early as possible in the project will allow you to see what you can get for your money, and just how far your money will stretch. When you are looking at creating a budget, it is important that you always allow a 10 to 20% figure for any overspending.
Who Will You Use?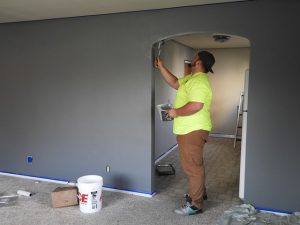 Are you going to try and carry out work on your own or are you going to only use reliable and trusted professionals, such as those from Midlothian plumbing or joiners for bespoke woodwork? Knowing which tradespeople you want to use within your home will ensure that they are available when you need them. Compare quotes and reputations before committing to any tradesperson to ensure that they will be there for you when you need them the most.
What Is Your Timescale
How long do you want your project to last and take? Most renovations always overrun on time and budget, so it is important to take this into account. To establish an accurate time scale and time frame you need to liaise with the people who are doing the work. If they are busy on other projects, then you will need to account for and allow for this. Realistically you will not be able to get everyone when you want them, and therefore good communication is so important.