Tis' the season for lots of kissing.  The holiday season brings plenty of options for festive kisses. Are your lips winter ready? After-all, your lips need to be in perfect condition in order to make the right impact during a mistletoe kiss. Cold air, chilling wind, dry heat can all play havoc on those lips. Needless to say, if you happen to be in the market for a new lip balm, look no further then Rebels Refinery. Their lip gloss is a hands down Today's Woman favorite. The lip balm stays put and contains ingredients that can protect, soothe, and smooth lips during cold weather.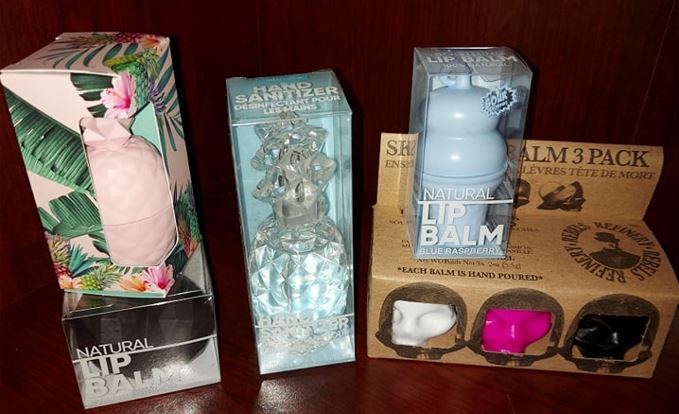 The lip balm contains natural oils including bees wax, coconut, lavender, Rosemary, Canola, Honey  and vitamin E.  Coconut and sweet almond oils, beeswax and rosemary extract nourish and protect chapped lips. Vitamin E provides essential antioxidants, while a matte finish absorbs quickly for maximum hydration.
All of Rebel Refinery lip balms have the same ingredients so I'll only list them once:
Cocos Nucifera (Coconut) Oil, Prunus Amygdalus Dulcis (Sweet Almond) Oil, Beeswax (Cera Alba / Cire d'abeille), Canola Oil (Canola / Huile de colza), Glycine Soja (Soybean) Oil, Lanolin, Rosmarinus Officinalis (Rosemary) Leaf Extract, Honey (Mel / Miel), Lavender Essential Oil, Tocopherol (Vitamin E), Natural Flavor/Aroma
The pink pineapple flavor is called "Exotic Fruit" which has a flavor combination of mango and strawberry. It is a really nice flavor.
The Blue Ice cream cone has a Sour Blue Raspberry Flavour. It is also available in purple which has a Lemon Meringue Pie Flavour.
The cactus lip balm in teal is the perfect gift for a plant loving friend.It has a summer citrus flavor. The cactus also comes in a two pack or in a buddy pack which contains one cactus shape lip balm and one stick size lip balm. The stick lick balms are the perfect size to slip into your jean pocket.
If you are looking for a gift to add a skull lovers list of collectables why not consider a skull lip balm bundle. The bottom of each balm is also embossed w/ the quotation: "Be all my sins remember'd"- Hamlet. Comes in white vanilla, black mint and pink passion fruit.
If their heart is black as stone you can give them a black wild-berry heart. Heart lip balms are also available in pink cocolime, and a teal sweet mint flavor.
All of Rebels Refinery lip balms leave my lips moist. There is no stickiness, and my lips feel well hydrated, not parched.
Make Rebels Refinery part of your morning, bedtime and being outdoors routine. They are just what you need to get your lips in kissable condition this holiday season.  Their products make wonderful stocking fillers too.  Also, who can resist their cute packaging? If you normally use EOS lip balm, one try of Rebels Refinery and you will be making the switch.
Oh, and quit licking your lips. When your lips are dry, it's natural to want to lick them to make them moist. Don't do it though. It causes them to be dry!
As we head into another cold and flu season the best and first lines of defense are hand sanitizers and soaps to rid as many as 400,000 germs (per hand) that travel with us every day.  Why not add some fun to your daily sanitizing with Rebels Refinery refillable, crystal-inspired pineapple sanitizer. It is made of 80% alcohol – packed with Japanese peppermint essential oil to keep your hands from drying out. I love that the hand sanitizer is a spray. It doesn't leave your hands sticky and smells great.
About Rebels Refinery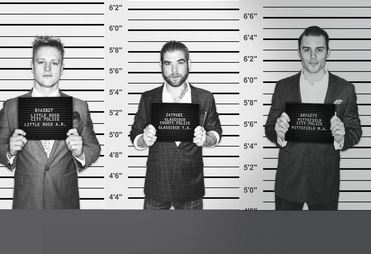 Rebels Refinery is an exclusive brand owned by friends that actually care about people and products. The company was established in 2014. Their mission is to help make people look good, feel good and raise money and awareness for notable causes.
Founder Eric Fallon and his two best friends Justin MacLean and  Elan Marksgrew grew up in a small town called Dundas, Ont. Eric started stealing his mother's skin care products when he realized his lifestyle was taking its toll on his skin.  Everything in the drugstores seemed chemically intensive or the packaging was unattractive. So along with his friends Erin did what every 20 something year old man does. He and his two best friends started their own men's skincare company.
They found their way onto Dragon's Den. Kevin O'Leary was Dragon at the time and walked off within 10 minutes of their pitch. They ended up doing a deal and used the money to create their first shaped lip balm- the skull. This item became so wildly popular with women that they changed their tagline from 'Premium Natural Skincare for Men' to 'Premium Natural Skincare for Humans.'
Over the years,  they have created new iterations of their lip balms as they realized their passion lies in highly designed products- both inside and outside, that made people happy. They used to think motorcycles and being edgy was cool ( though motorcycles still are). Now they  understand that being happy is the new cool. That's why their tagline is transforming the ordinary into moments of joy.
As they look to the future, they hope you'll follow them as they become a more sustainable brand by committing to using 90% less plastic.
While they still may not a major brand with a fancy French name and a billion-dollar advertising budget they are an inclusive brand owned by friends that care about people and high-quality products over making a profit.  Whether you're a rebel at heart or not, need kissable holiday lips, they hope you join us in supporting Rebels Refinery.
For more information, please visit: http://rebelsrefinery.com
Coupon code: Save 15 % on your next order when you use code ROSE15 at check out.
Let's Get Social