Canadians produce a lot of plastic waste; an estimated 3.3 million tonnes per year. Of that amount about 2.8 million tonnes of plastic waste ends up in Canadian landfills. As we approach another holiday season household waste will double especially the week following Christmas. Before you pull out the plastic to pay for even more plastic consider giving a Canadian made green gift. Nature Bee Beeswax wraps are produced in Vancouver, Canada, with Canadian beeswax from Country Bee Honey Farms, so they are a truly local company.
Unlike traditional plastic wrap these wax wraps are a washable, reusable, and a compostable alternative. Plus Nature Bee Beeswax wraps will keep your food fresh up to 3x longer than plastic wrap. Each wrap can be washed and reused for up to one year.
Nature Bee Beeswax wraps are moldable with the heat or your hands so they easily wrap around bowls. You can also use them to wrap up sandwiches or snacks for kids lunches. To clean wash your beeswax wraps in cool water with a mild dish soap and then leave to air dry. When you are ready to dispose of the wraps, cut them into strips and add then to your compost, or wrap them around pieces of kindling and use them as a natural fire starter for your fireplace.
As a product, these incredibly durable wraps stick very well. I also think they keep food fresher than plastic wrap or aluminum foil. I love the pretty patterns too. I should note the company doesn't recommend using the wraps for raw meat. To wash I use a tiny bit of soap and wipe each sheet with a Swedish dish cloth before running it under cold water.
Nature Bee certainly knows how to combine beauty and practicality. They have so many pretty designs. With a wide selection of sizes and patterns, to choose from, they make the perfect gift.
I don't think I'll be tossing my anchor glass containers just yet, but I really do love the wraps.
Swedish Dish Cloth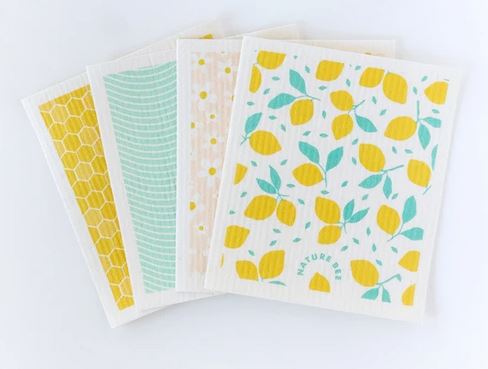 Don't forget the Swedish Dishcloths. Swedish Dishcloths are the perfect addition to your Nature Bee Wraps because they are lint-free!! They are also perfect for any kitchen cleaning task and they absorb up to 15 times their own weight. One Swedish Dishcloth replaces 17 rolls of paper towels. Made from 70% wood cellulose and 30% cotton Swedish dishcloths are compostable. Plus they come in the cutest designs. With proper care the dishcloths will last between 7-12 months.
I have washed these several times, and they are still holding the original shape. They also don't hold any odor. After using them, I just give them a quick hand wash and then boil them in a pot. They are quick drying and dry stiff. Once you run them under water again they are as good as new.
Nature Bee was founded in 2018 by Vancouver Island local and Queen Bee, Katie Gamble. Nature Bee started as a final project at the end of her Bachelor of Commerce at the University of Victoria where it quickly turned in to something much more. Katie was overwhelmed by the year-over-year production of wasteful single-use plastics and wanted to take a stand. It was from there Nature Bee Holdings Ltd was born.
Get Social