It may be a bit different this new year with the new restrictions surrounding Omicron. But before you head to bed, you can host an Innis & Gunn party online with friends and family. The Canadian brewery Innis & Gunn has released their annual Innis and Gunn gift set, a Canadian exclusive, which includes two 330ml bottles of their flagship beer, The Original, one 330ml bottle of Caribbean Rum Cask, and one 330ml bottle of Kriek (exclusive to the holiday pack).
Innis & Gunn's Origina flagship beer their most famous and original beer. As Innis & Gunn's most popular product in Canada, The Original is unlike any other beer. The aromas of vanilla, malt, toffee, and oak can be detected in this single malt whisky cask aged for smoothness and depth of flavour.
Caribbean Rum Cask
The Caribbean Rum Cask, formerly known as Blood Red Sky, is a beer to savour. Canadians loved Caribbean Rum Cask when it was originally released as a limited edition, and it had sold out the moment it hit shelves. Spice and richness of flavour can be found in this Caribbean Rum Cask. The appearance is a dark amber. Once open, a familiar smell of hops come through right out of the bottle. Once mellow, the sweetness of the rum comes through. The Caribbean Rum delights the palate, though the bitterness opens with lots of depth and character. It, definitely, offers something a little different from other single malt expressions.
Innis & Gunn Kriek
Innis & Gunn celebrates Scottish produce with 'Kriek', a special release beer matured with ripe cherries grown and plucked just moments away from the award-winning company's Perth Brewery. In a moment of inspiration, Dougal Gunn Sharp, Master Brewer, brewed 5.1% Kriek beer after tasting Scottish cherries from Thomas Thomson of Blairgowrie last summer. Douglas first visited this location with the intention of purchasing a couple of baskets of strawberries. Instead, he ended up ordering two tonnes of their ripe sweet cherries, stunned by their flavour and astonished at the possibility of incorporating it into beer.
In the resulting Kriek, Scotch whisky casks matured for three months to build layers of depth, accenting the delicious balance of sweetness from ripe cherry and oak, with a refreshingly tart finish.
Upon pouring, Kriek appears as a deep red color with cherry notes and coppery undertones. It has strong oak and cherry aromas, with a strong cherry flavour. It is the perfect after dinner drink served with a slice of cherry cheesecake. The beer is clean, refreshing, and a great way to toast the New Year. You'll taste a sweet, bitter cherry at first, followed by a rich taste If you drink spritzers, you'll probably enjoy this beer. I was surprised that the Cherrywood Finish actually plays more on sweetness than bitterness.
Vanishing Point 05
Vanishing Point 05. This craft beer is a 11% Imperial Stout that was aged for 365 days in hand-selected 15-Year-Old Speyside Single Malt Whisky Casks. Having been matured in casks freshly emptied of 15-Year-Old Speyside Single Malt Whisky for 365 days, the 2021 limited edition has been a year in the making.
The beer's jet black colour is enhanced by oak and coconut flavours, as well as pleasant notes of dried red fruit. There is a rich taste of chocolate, oak, and vanilla in this drink with a warming, spirituous quality. With over 8,000 hours in cask, the beer has been refined and mellowed into a heady malt character. The aftertaste of oak and roasted malts lingers on the palate. Definitely one to savor.
ISLAY WHISKY CASK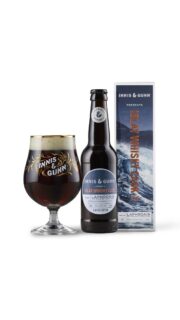 Laphroaig's signature expression, the Islay Whisky Cask, is a 7.4% amber ale that's slowly aged in ten-year-old casks of single malt scotch whisky – a highly regarded malt whiskey around the world.
The bottles are presented in a striking gift box that was designed in collaboration with Scottish artist Hope Blamire, who was specially commissioned to design an artwork that captures the ambiance of Islay.
For beer and whisky lovers alike, who seek out and enjoy truly original, out-of-the-box taste experiences that defy the norm, Islay Whisky Casks cater to you.
As the beer matures for 12 weeks, it extracts complex flavors from deep within these whisky casks, including peat smoke and brine, plus vanilla and floral notes characteristic of Laphroaig.
A deep, golden-amber colour characterizes the Islay Whisky Cask. Laphroaig's signature peat-smoky and floral aroma notes are boldly expressed, while classic Innis & Gunn malty, deep flavors are rounded out perfectly.
This
New Year
does
not
have to be
miserable
. It can be a time for reflection, rest, connection
,
and creating new memories
.
Celebrate the new year with Innis & Gunn.
About Innis & Gunn: www.innisandgunn.com
Since its foundation in 2003, Scottish brewer Innis & Gunn has grown to become one of the UK's most successful craft beer businesses. Using innovative techniques including oak cask maturation, Innis & Gunn brew multi-award-winning beers including the flagship 'The Original' and Scotland's Best Lager, Innis & Gunn Lager Beer. Innis & Gunn is the third-biggest craft beer brand in the UK-off-trade and the number one imported craft beer in Canada. The brewer's portfolio
also includes a range of IPA's and a line of bespoke limited-edition brews which demonstrate quality, innovation and craft.
Follow Innis & Gunn: Twitter: @innisandgunn Instagram: @innisandgunn_