The way that a person dresses for work says a lot about their commitment to the job. They know the business environment isn't the time to showcase their sexy or casual side. So, they put on the appropriate attire each day. However, their jewelry choice may ruin the professional reputation they worked hard to build. Instead of wearing pieces that may come across as tacky or cheap, they can convey sophistication and class instead.
Here are tips for wearing your favorite jewelry at work while still looking professional:
Stay simple
For many years, the only acceptable rings worn at work were those signifying marriage. In most countries, these wedding bands are worn on the left hand and the right hand remains bare. However, it's becoming more acceptable to wear rings on the right hand as well. You can visit jewelry stores dallas to find the ring that suits your style. While the left hand is reserved for displaying marriage and commitment, the right is a way to celebrate a person's accomplishments and demonstrate their personal taste. Today's right hand ring designs are neither flamboyant or gaudy. On the contrary, they project the wearer's achievements and style in a classic and elegant manner.
Avoid sparkle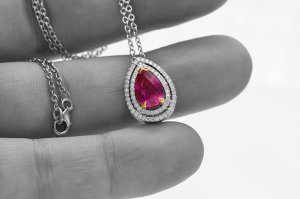 A person with an outgoing personality often likes to wear conversation pieces or statement jewelry. Shiny, glittering pieces of jewelry can be a lot of fun to wear but will give the wrong message when flaunted in an office setting. Many professionals see them as distracting and the wearer as unfocused. Except for diamond studs and diamond rings, all other sparkly pieces should be reserved for night events like dinner, concerts, or dates. The same goes for pieces that are particularly artsy and expressive in terms of color and design. Instead, they should choose minimal styles like delicate chains and dainty rings. This compliments any outfit rather than becoming the focus.
Remain Silent
In an office environment, people can hear the sounds of phone calls, copy machines, and team meetings. All of these noises are a normal part of the day that are easy to get used to. But, a loud clanking or constant jiggle would be harder to make peace with. A person that wears hoards of bracelets or intricate earrings would not be impressive to their management team or potential customers. They may not take the employee seriously and refuse to consider their ideas. By choosing silent jewelry, their voice would be heard and appreciated much better.
Increase in value
Many people put most of their clothing budget into stylish outfits, but will not consider investing in fine jewelry collections. Instead, they go with fashion trinkets created from inexpensive materials. These are prone to break and continuously need replacement. A better alternative would be selecting fine jewelry pieces made from real gold or platinum. The finer pieces will last longer and will resist tarnishing as time goes by. Click this link to find good and elegant jewelry like bracelets that you can certainly add into your collections. Additionally, fine jewelry is eligible for repair if damage does occur to it. By going in this direction, an employee can show that they make sound investments and wise decisions.
Start a collection
When someone decides to become more serious about their workplace jewelry, they may be unsure of where to start. Because of their excitement to get expensive pieces, they mistakenly buy them at random. As a smart alternative, they can plan and could acquire parts of a jewelry collection. This will allow them to display the pieces simultaneously for a more polished appearance. As they start to look more pulled together, the employee may also feel more confident as they go through the workday.