This upcoming holiday season unleash the creativity in your child with iHeartArt Kits from makers Bright Stripes. These iHeartArt kits give children exposure to various tools from gel pens to markers to oil pastels. There are six different sets to choose from. The art kit is ideal for all grade levels from elementary to high school.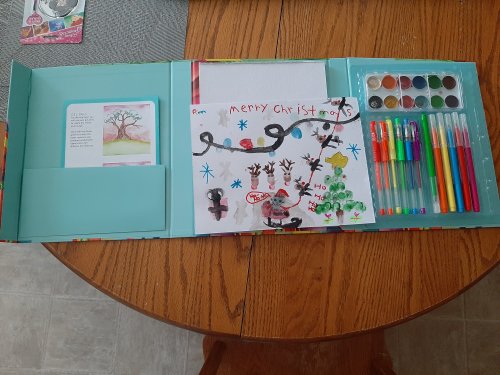 Bright Stripes iHeartArt Kits
The glitter set which has gotten the most use in our house comes with 12 metallic watercolors, 8 glitter gel pens, 8 glitter markers, 2 paintbrushes, and a 25-page art pad all stored in a handy binder with velcro closure.
Each set also comes with a techniques guide to help get those create juices flowing. The artwork on the packaging was created by youngsters using the very supplies in the kit! If you flip the kit over you can see the name of the young illustrator. I think the glitter in this set really makes the pictures pop.
It is really convenient to have high quality paper as part of the kit as well. I only wish that once you have used up the paper pad that there was a way to insert a new pad into the binder.
Our Thoughts on iHeartArt kits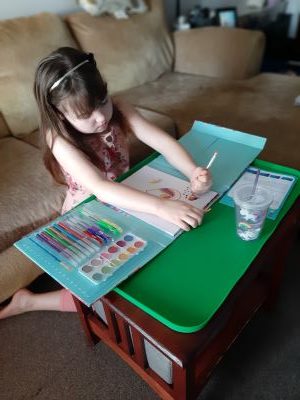 Miss P loves to draw and color, but hasn't did much painting. Since receiving her kits she has drawn and painted various pictures. She begins to draw with a pencil. Once her picture is drawn she uses the include colors and mixes the various shades of  paint in her picture.  I also love she is exploring various techniques like thumb painting for example. She used thumb painting to create a painting of Flanders Fields for Remembrance Day.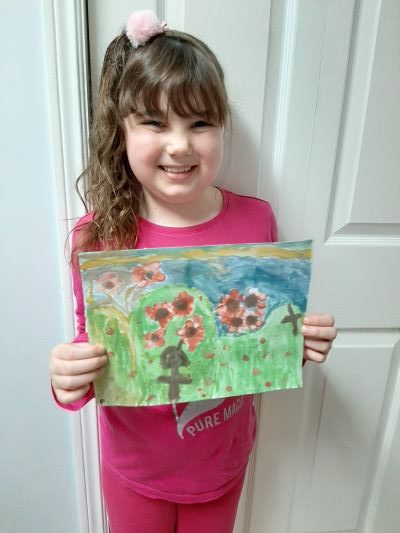 Are your children participating in remote learning? My 7 1/2 year old daughter is and I find that Bright Stripes iHeartArt Kits has come in handy for several of her hands on assignments. It is nice to conveniently have everything in one place when she needs to get to work.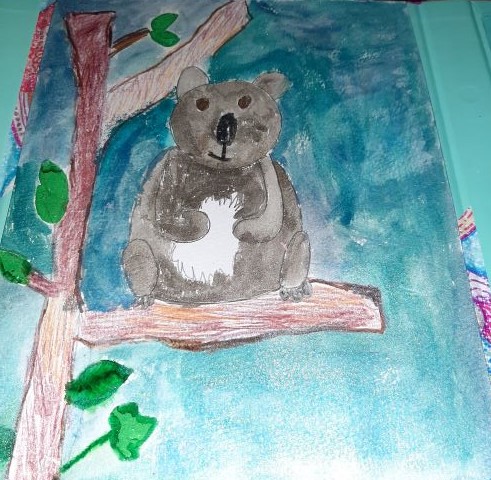 Teach Drawing
Teaching drawing to young children is easy with the proper tools. This upcoming holiday season why not gift a Bright Stripes iHeartArt Kit with a learn to draw book. Even kids who don't think they have any artistic ability will get into the swing of things with Bright Stripes iHeartArt Kits.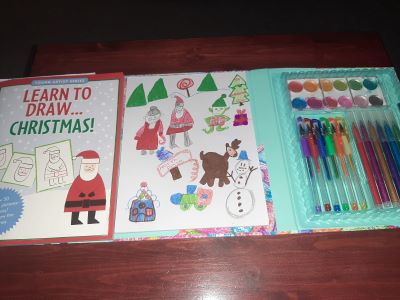 Choose from: Batix FX, Bold + Bright, Glitter FX, Paint + Pastel, Pastel FX and Watercolor Blends + Ink
Be sure to check out Bright Stripes full line of art and craft supplies for children. They have so many wonderful gift ideas that it will be very difficult to choose just one.
About Bright Stripes
Enriching kids of all ages and stripes, co-founders and partners Sabre Mrkva and Eric von Stein have been working in the Toy and Children's Product space collectively for over 20 years. They believe in the power of creative play to empower kids to create the world they want to live in. With a synergistic vision for innovative products and graphics, Sabre and Eric have developed blockbuster product lines with Alex Toys, Slinky, Shrinky Dinks, Scientific Explorer, Nickelodeon, Disney, and Dylan's Candy Bar, among others. They excel at transforming inspiration into market-ready, eye-catching product packaged in dynamic, trend-right graphics. Today they have teamed up with top-quality manufacturers to create charming lines of products for kids of all stripes! Click on iHeartArt's YouTube channel for inspiration using Mash-Up kits and other art supplies.
Follow Bright Strips on their Socials: