Host a Squish-Dee-Lish hunt this Easter with these adorable Squish-Dee-Lish blind bags from JAKKS Pacific, Inc. If you have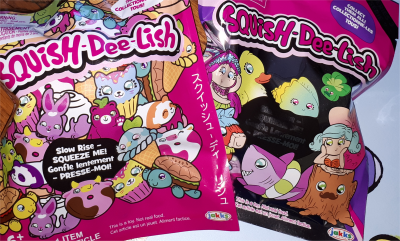 not heard by now, squishies are the latest toy craze among children and even some adults. Squish-Dee-Lish are made of a very soft slow rising foam, are scented and highly collectible.
The fun thing about Squish-Dee-Lish from JAKKS Pacific, Inc, compared to other brands of foam squishy toys is that Squish-Dee-Lish come in foil blind bags, so children will not know which one they have until they open the bag. Kids love to be surprised and there is nothing more exciting than opening a blind bag and finding a Squish-Dee-Lish that's missing from their collection.
If you have a child obsessed with bling bags and squishy toys then Squish-Dee-Lish blind bags are a win. I must admit, even as an adult, I get excited when we open the blind bags to see which one she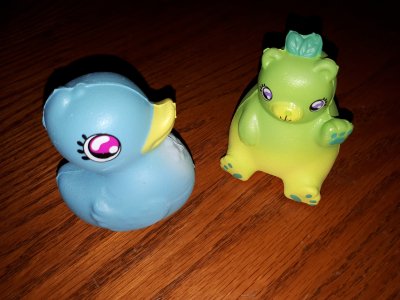 received.
The collection of Squish-Dee-Lish Series 3 contains 30 new slow-rising characters to collect, like a pinata, hula girl, rubber duck, owl, mermaid and so many more. The inexpensive price tag makes them the perfect Easter basket addition.
My daughter loves squishing the characters and watching as they slowly rise back to their form. They also make a great fidget toy. Of course like with other collectibles, Squish-Dee-Lish are perfect for pretend or make believe play.
While Squish-Dee-Lish may be marketed to children, they make great stress relievers for the workplace office too, so grab some Squish-Dee-Lish blind bags for yourself or your adult kids.
About JAKKS Pacific, Inc.
JAKKS Pacific, Inc. (NASDAQ: JAKK) is a leading designer, manufacturer and marketer of toys and consumer products sold throughout the world, with its headquarters in Santa Monica, California. JAKKS Pacific's popular proprietary brands include BIG-FIGS™, XPV®, Max Tow™, Disguise®, Moose Mountain®, Funnoodle®, Maui®, Kids Only!®; a wide range of entertainment-inspired products featuring premier licensed properties; and, C'est Moi™, a youth skincare and make-up brand. Through JAKKS Cares, the company's commitment to philanthropy, JAKKS is helping to make a positive impact on the lives of children. Visit at www.jakks.com