It is nice to see a line of superhero action figures marketed to girls. My daughter can now act out her favorite scenes from the Nickelodeon show Mysticons with an all new line of Mysticons action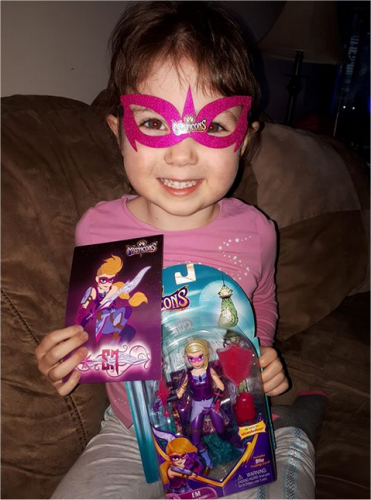 figures, designed specifically for girls, as well as an assortment of flying creatures, plush and role play items.
The Mysticons girls action series premiered in August on Nickelodeon in the U.S. and on Corus' YTV and Teletoon in Canada and is currently the #1 animated series on YTV. The series has also surpassed 3 million views on its short form content on YouTube.
"Mysticons tells the epic tale of four girls- Arkayna, Zarya, Em and Piper. All from different walks of life the girls are transformed into legendary warriors. After discovering a powerful mystical tome, the fearless foursome are drawn together by a prophecy to battle evil and protect the realm. The series features real relationships and distinct personalities, with strong, confident, smart, witty, and funny characters."
"At its core, 'Mysticons' celebrates every girls'strength, confidence and character, which provides an exciting new opportunity for us to develop a truly unique toy line that empowers girls to use their imagination to create their very own mythical quests,"says Gina Beebe, senior vice president, girls' marketing, Playmates.
Mysticons Action Figures
If your daughter is anything like mine, she will love fighting crime with Mysticons action figures.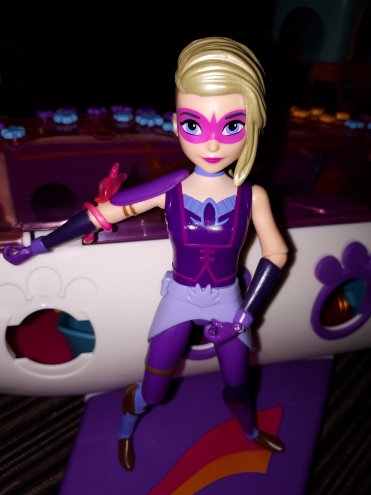 Each  Mysticons action figure from Playmates Toys comes packaged with only the most necessary items. Each figure comes complete with weapons and one faithful pet. KIds also receive with their action figure a unique Topps Trading card with scanable code that opens extended digital quests in the Mysticons App.
I find the Mysticons action figures to be incredibly detailed. The faces on each of the dolls are quite lovely.
Additional figure assortments include Magic Lights Talking Figures, which bring each of the Mysticons heroes to life and a Griffin & Figure Assortment.
Arkayna, the Mysticon Dragon Mage, comes with her powerful Dragon Staff, dragon arm bracer, and a baby dragon. Zarya is the ranger, who comes with her magical bow and arrow, wolf bracer, and her pet fox, Choko. Piper, the Mysticon striker, comes with energy hoop, a phoenix arm bracer, and a little plushie.
My daughter's favorite Mysticons girl and action figure in the line is Emerald "Em" Goldenbraid.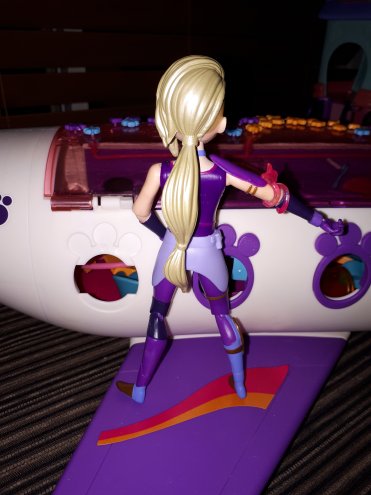 Emerald "Em" Goldenbraid is a wise and courageous dwarf with a big heart. She's also the Royal Griffin wrangler and loves flying on her favorite steed, Topaz. She has long hair tied into a ponytail with shaved hair on top. She wears a purple tank top with pants.
Em, Mysticon Knight is a bit smaller then the other dolls in the line. She stands 6″ tall with 12 points of articulation, so my daughter can set her up in really cool poses as they go on all types of adventures together. Even Em's wrists move, for weapon-placing perfection! Em comes with a baby griffin, removable star sword & shield. She also has a removable unicorn bracer.
Em also includes a Topps® Mysticons trading card with a code to unlock quests in the mobile app, Secrets of Gemina! "Em has the magical strength of the Star Sword and Shield to combat evil—and a unicorn arm bracer to gallop over her enemies!"
The Mysticons action figure line is off to an excellent start. Children will find them to be a welcome addition to their action figure collection. I look forward adding more of the action figures to my daughters collection of barbie dolls.
Also available are:
The Mysticons' favorite foz, Choko, is a 7″ soft, huggable plush, perfect for fans of the series.
Girls can become their favorite Mysticons warrior with the Battle Gear Assortment. This is actually on my daughter's wish list. Each role play set includes the heroes' signature weapon, avatar creature bracer and mask.
The "Mysticons" toy line is also available online at Walmart.com, ToysRUs.com and Amazon.com.
With trading cards, books, action figures and toys,  Mysticons is positioning itself as a strong brand with an admirable message- "Make 'em run..Make 'em hide..Make the city come alive with Mysticons-Remaining brave and strong until the battle's done."
About Playmates Toys
With a history of over 50 years, Playmates Toys is today among the most well-respected and innovative marketing and distribution companies in the global toy industry with a proven history in the creation of imaginative products as well as the development and management of profitable, long-term brand franchises. Key brands include Teenage Mutant Ninja Turtles, Voltron Legendary Defender, Ben 10 and Mysticons. From its offices in Hong Kong and California, Playmates designs, develops, markets and distributes its products in over 60 countries worldwide. For more information, visit http://www.playmatestoys.com.
About Mysticons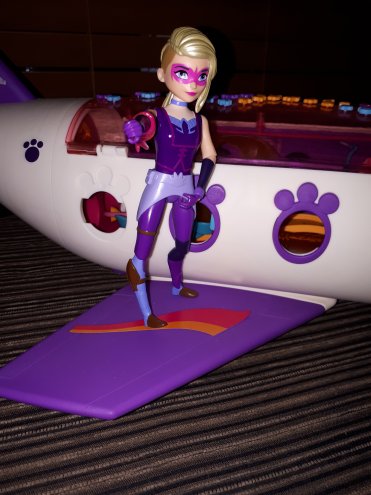 Mysticons is an original animated action series, produced by Nelvana Limited, about four girls from different walks of life who are transformed into legendary warriors. After discovering a powerful mystical tome, the fearless foursome – Arkayna, Zarya, Em, and Piper – are drawn together by a prophecy to battle evil and protect the realm. With real relationships, distinct personalities and already strong, confident, smart, witty, and funny characters, Mysticons focuses on the representation of girls' strength, power and courage on the television screen. Season one consists of 40 episodes.
YouTube: www.youtube.com/mysticons
Website: www.mysticons.com