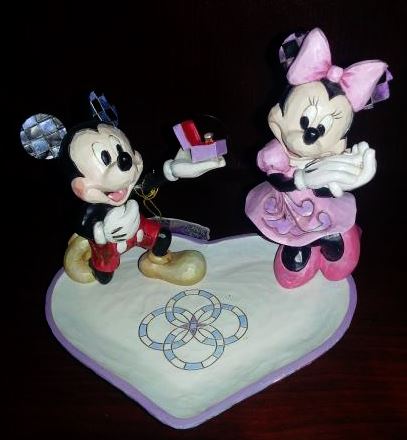 Valentine's Day is rapidly approaching, and if you haven't already made plans, you might be feeling the pressure about making this holiday a memorable one.The Walt Disney World Resort has plenty of romantic activities for couples to experience. Of course not everyone can afford to experience, the magic of the Walt Disney World Resort, so this Valentine's Day why not surprise her with the magic of Disney right at home. Enesco Canada proudly offers Disney Traditions collectable figurines by Jim Shore. Combining the magic of Disney with the artistry of Jim Shore, each piece from the series reveals Jim's artistry and skill, in not only capturing the essence and magical qualities of each Disney character. but also enhancing in Jim's own unique American folk art-inspired style.
Each figurine in this unique collection is hand painted and sculpted in resin. Whether it's the classic Minnie and Minnie, or Beauty and the Beast romance, romance is in the air when it comes to these figures.
I own 3 Jim Shore figurines already, with my newest being the Mickey & Minnie Ring Dish.  Like other figures I own, this particular figure does not disappoint! Like other Jim Shore figures,  the Mickey & Minnie Ring Dish is very detailed. Standing 5 inches in height Mickey Mouse is the soul of romance as he proposes to a love-struck Minnie in this heartfelt design.  One can keep their favorite rings and small jewelry treasures safe in the sweet scene of this lovely dish.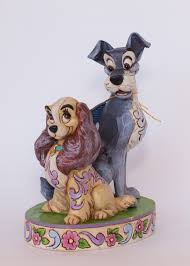 Jim Shore showcases his unmistakable folk-art style celebrating the 60th anniversary of the beloved Disney classic Lady and the Tramp with this delightful design featuring title characters in a lovable pose. The only thing missing is the spaghetti!
Beauty and the Beast is as they say, a tale old as time and that means the gifts via Enesco Canada for it are endless. My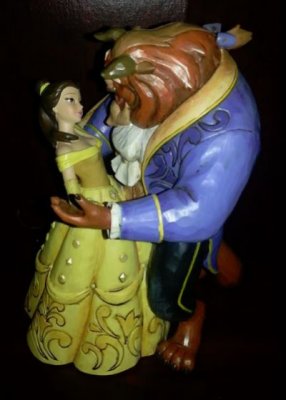 favorite is the Moonlight Waltz, an enchanting double figure inspired by the romantic ballroom scene where Belle and her suitor discover their love is a tale as old as time.
What a fun way to add a little Disney Valentine magic even at home. The above are just a few of the options from Enesco Canada. I know that I would be thrilled to receive any of these gifts of affection. Would you?
For more information, visit: enescocanada.com
Looking for a romantic date idea? What about a home cooked Italian meal and a cute tale of Lady and the tramp? Recreate the classic spaghetti and meatball dish with a mozzarella twist.
Make things even a little more magical with a Mickey pepperoni pizza! It's a heart-shaped pizza with Mickey-shaped pepperoni. Recipe at family.disney.com.